Patricia L. Scott
Utah History Encyclopedia, 1994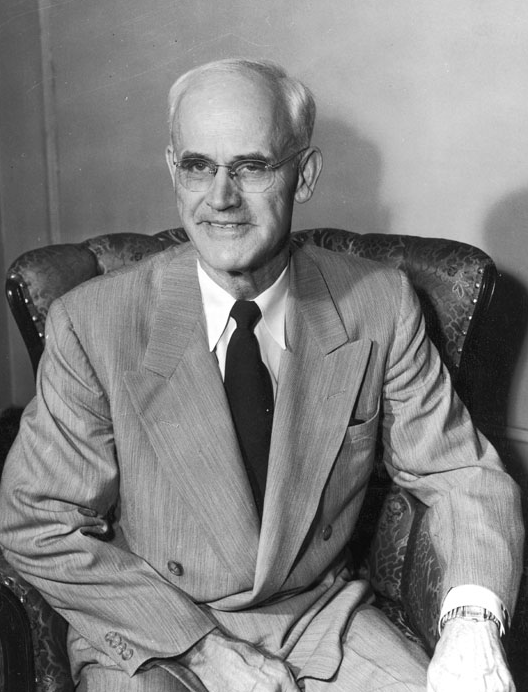 Arthur V. Watkins was born in Midway, Utah, 18 December 1886. Vivian (as he was known by his family) was the first of six children born to Arthur and Adelia Gerber Watkins. Educated in Utah public schools in Midway and Vernal, he entered Brigham Young Academy prep school at age of seventeen. Three years later, his college education was interrupted by a mission call from the LDS Church to the Eastern States Mission.
After the completion of his mission, Watkins enrolled at the New York University Law School and later the Columbia Law School. After graduation in 1912, Watkins was admitted to the Utah State Bar. His early career reflects his varied interests including a law partnership in Vernal, service as an assistant Salt Lake County attorney, management of a 600-acre ranch near Lehi, and the establishment of the weekly newspaper, Voice of Sharon (later the Orem-Geneva Times) and service as its editor.
Watkins began his public service career with his election as a judge in the Fourth District Court. In 1932, he was defeated for re-election in Franklin D. Roosevelt's Democratic landslide. After his defeat Watkins immediately began a career in water development. He was instrumental in the organization of various water-users' associations and metropolitan water districts, particularly the Provo River Project.
In 1936. Watkins ran unsuccessfully as a Republican candidate for Congress. Ten years later, he ran successfully for the United States Senate and was reelected in 1952. Watkins became one of the most respected U.S. Senators of his generation and is best known for his service as chairman of the Senate Select Committee which recommended the Censure of Wisconsin's Senator Joseph McCarthy for his conduct in investigating communists in government.
Watkins also served as chairman of the Senate Subcommittee on Indian Affairs and championed the termination policy of American Indian tribes. He also was recognized as a reclamation authority and was instrumental of the Deer Creek Reservoir Project. He successfully sponsored both the $760 million Colorado River Storage Act and the $70 million Weber Basin Project Act.
A strong supporter of Eisenhower, he sponsored the Refugee Act of 1953 for the president and served as administration spokesman for civil rights legislation in both the 84th and 85th Congress. In 1958, Watkins was defeated for reelection because of his support for McCarthy's censure and also due to J. Bracken Lee's third-party candidacy, which split the Republican vote and allowed the election of Democratic candidate Frank Moss.
Following his defeat, Watkins served briefly in 1959 as a consultant to Interior Secretary Fred Seaton. In 1960 President Eisenhower appointed him to the Indian Claims Commission where he rose to the position of chairman and later its chief commissioner. In 1967 Watkins retired to write his memoirs and two years later his book was published. Entitled Enough Rope, it detailing his activities of the Senate Select Committee relating to the censure of Senator Joseph McCarthy. Watkins died 1 September 1973 in Orem, Utah at the age of eighty-nine.
See: Arthur V. Watkins, Enough Rope (1969)