Kenneth Godfrey
Utah History Encyclopedia, 1994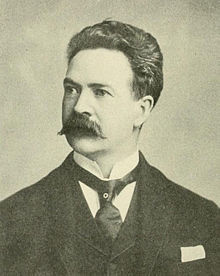 Frank J. Cannon was born 25 January 1859 in Salt Lake City, Utah. He was the oldest child of George Q. and Sarah Jenne Cannon. His father, an apostle and polygamist, was called into the First Presidency of the Church of Jesus Christ of Latter-day Saints early in Frank's life. He attended the Fourteenth Ward school in Salt Lake City until the age of thirteen, at which time he went to Ogden to serve as deputy clerk and recorder of Weber County. There he received valuable training in the neatness and exactness that were to characterize his life and literary labors.
At the age of eighteen Cannon enrolled in the University of Deseret. While attending school he worked as a compositor in the Juvenile Instructor office. At the age of nineteen he graduated from the university. After graduation he worked for the Deseret News as a reporter. In April 1878 he married Martha A. Brown of Ogden.
In 1891 Cannon became active in organizing the Republican party in Utah. In 1892 he was nominated as the Republican candidate for delegate to Congress. Unsuccessful in 1892, he won the seat in 1894. In 1897 he was elected to the United States Senate. As a Mormon and the son of George Q. Cannon, Frank Cannon carried the tacit support, if not endorsement, of LDS Church authorities. Although the national Republican party opposed free silver, Cannon's position favoring it was shared by a large majority of Utahns.
As a senator, Cannon's time was largely devoted to raising pensions for private citizens and obtaining public relief for others. He petitioned Congress for a duty on imported sugar, a higher tariff, relief for pioneer Indian depredations, an industrial home, construction of a public building in Ogden, and the enlargement of Fort Douglas. He spoke in favor of a constitutional amendment providing for the direct election of senators, and he called for food and drink laws to be reviewed and for trusts and combinations to be investigated. He also presented a bill that would have required government agencies to adopt an eight-hour day for their employees. He voted against the Dingley Tariff Bill, much to the dismay of church leaders, who favored high tariffs on imported sugar in order to provide a stimulus for the Utah sugar industry.
Primarily because of his vote against the Dingley tariff, Cannon failed in his bid to win reelection to the Senate. In addition, his stand in favor of free silver, questions about his morals while in Washington, an undercurrent of opposition by certain LDS Church leaders, and control of the state legislature by the Democratic party also hindered his reelection prospects.
In 1900 Thomas Kearns, with the help of LDS Church President Lorenzo Snow, was elected United States Senator. The LDS Church withdrew its support from him in 1904 and Kearns faced defeat. Angry, he bolted the Republican party, formed the American party, bought the Salt Lake Tribune, and hired Frank J. Cannon as editor. Cannon, now an apostate Mormon, conducted an unprecedented "campaign of vilification and vituperation" against senatorial candidate Reed Scoot, Joseph F. Smith, and the Mormon Church.
In 1911 Cannon published with Harvey J. O'Higgins Under the Prophet in Utah, an expos of the involvement of Mormon Church presidents in Utah politics. Cannon spent the last two decades of his life lecturing throughout the United States against the Mormon Church and championing the silver industry. He died in Denver, Colorado, on 25 July 1933 at the age of seventy-four.