John R. Sillito
Utah Historical Quarterly, Summer 1981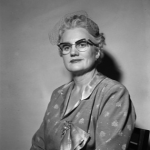 Olivia McHugh was born and raised in Kentucky. After graduating from Kentucky State University and the Sargeant School of Education in Cambridge, Massachusetts, McHugh worked as a teacher at Randolph Macon Women's College and the Kentucky Institute for the Blind. She also served as director of the Louisville municipal gymnasium.
McHugh moved to Utah in 1910 and settled with her physician husband, Frank, in Murray where both became active members of the Murray Socialist local. In later years she recalled that she "had not even heard of the Socialist party" until coming to Murray but was attracted to it because the town had an effective Socialist administration. This administration had built "a municipally owned power-plant which was one of the most efficient in the country."
Additionally, the McHughs were attracted to the Socialist banner because they were "young, idealistic, and sympathetic to the plight of the working class." Both McHughs were candidates for office; Frank as the party's nominee for governor in 1912 and Olivia as candidate for superintendent of public instruction in both 1912 and 1914. In reviewing these campaigns, some sixty years later, Olivia McHugh recalled: "There weren't many people who could meet the qualifications for the office of superintendent, which basically were graduation from a university or normal school. I could meet those qualifications, so I became the candidate! I ran strictly as a protest candidate and knew there was no chance of my winning. I received quite a few votes, but I was well-known in women's clubs and therefore a lot of people voted for me out of friendship and not because of my Socialist affiliation." Olivia was, in fact, active in a number of civic organizations, including the Ladies Literary Club, the League of Utah Writers, the Salt Lake County Medical Association Auxiliary, and others. She was also a member of the Unitarian church in Salt Lake City.
In 1915 the McHughs' lives were touched by the case of Joe Hill, the legendary Industrial Workers of the World (IWW) songwriter and organizer whose execution in Utah became a cause celebre in American labor history. Frank McHugh was the physician who treated Joe Hill for gunshot wounds the same night that Salt Lake City grocer John G. Morrison and his son Arling were murdered. Ultimately, Hill was executed for that crime. In later years Olivia speculated that Hill probably came to her husband for aid because he had seen him at Socialist meetings in Murray (where Hill was living at the time with the Eselius family, who were also patients of McHugh) and felt that since the physician had Socialist sympathies he would not report the incident or charge him for medical services. Actually, it was McHugh who tipped off the Murray police after reading of the Morrison murders the next day in the newspaper.
The same year as the Hill case, Olivia helped organize the Utah branch of the Woman's Peace party. Like her counterparts nationally, she shared the goals of preventing American involvement in the war and supporting the use of neutral mediators to bring about an end to the European conflict. Once America officially entered the war, however, McHugh—like many other women in the WPP—supported the country's efforts in World War I. Similarly, she broke with the Socialist party, as did a number of others, when it continued to oppose American participation after Congress declared war in April 1917. From that time forward Olivia McHugh dropped her affiliation with the Socialist party, although she was attracted to the presidential candidacy of Socialist nominee Norman Thomas a decade later.
Also touched by the Joe Hill case was Virginia Snow Stephen. Born in Brigham City in 1864, Virginia was the daughter of Mormon apostle (and later church president) Lorenzo Snow and one of his polygamous wives, Mary Elizabeth Houtz. Despite her parentage, Virginia evidenced only minimal ties in her adult years to the LDS faith. After graduating from the University of Deseret with a normal degree, Virginia returned to Brigham City where she taught school. In 1892 she married Jay R. Stephen and moved to Salt Lake City where she again taught school and studied art. At the time of the arrest of Joe Hill, Mrs. Stephen was a member of the Art Department faculty at the University of Utah. By this time she had become a Socialist and a staunch opponent of capital punishment. She believed that even in the case of murder the community had no right to "commit a worse murder" by taking a criminal's life. She argued, "if it is evil to kill in the heat of passion, is it not a double evil to kill by a supine community consent called law?"
At the same time, Stephen became particularly interested in the struggle of the working class to obtain justice under the United States legal system. She scoffed at the idea that poor or working people could obtain equal justice under capitalist law, particularly in cases involving working women. In a letter to a friend, she commented that conditions existing in Salt Lake City at the time convinced her of that unlikelihood.
Her deepening Socialist awareness led Stephen to cooperate with various groups and individuals seeking change in the status quo, though she was apparently a supporter and not a joiner of these organizations. In explaining her political views, she noted that there were many changes needed in society and that she wanted to be affiliated with efforts to secure those changes. Aware that such activity might lead to censure, she commented: "We may be persecuted and prosecuted for doing or saying the unusual—but we go on working for [change] just the same. We are not out for the honor of the hour; we are working for reforms which will be enjoyed by your children and your children's children. These changes will be slow in coming, they may come most unexpectedly, but they will come."
Virginia Snow Stephen's commitment to socialism, opposition to capital punishment, and support of equal justice for working people, received considerable attention after her identification with Joe Hill. Initially she became involved in the case because of her radical sympathies as well as her friendship with Ed Rowan, an IWW member and an activist in the Joe Hill Defense Committee in Salt Lake. Stephen conferred personally with Hill while he was in the Salt Lake County jail. She came away convinced that he was not capable of committing the crime for which he had been charged. Relating these views, she gained a high profile in the local press, which found it "good copy" that a faculty member at the university, as well as a daughter of a prominent Mormon, would even associate with Joe Hill, let alone champion his innocence.
Sources: Salt Lake Tribune, September 11, 1973. Interview with Olivia McHugh, Salt Lake City, November 4, 1971. Ibid. Box Elder County, Utah, Record of Marriages, Book I, p. 95, Box Elder County Courthouse, Brigham City. The marriage to Jay R. Stephen was short-lived and ended in divorce in May 1897. See State of Utah, Third District Court, Salt Lake County, "Papers in the Case of Virginia S. Stephen vs. Jay R. Stephen, no. 1137," Utah State Archives, Salt Lake City. Salt Lake Herald-Republican, June 21, 1914.