Michael Kent "Mike" Winder, Sr. (April 2020)
There is a melancholy silence on Winder Lane, as the tree-lined stub of 4400 West, south of 4100 South in West Valley City is known. The milk trucks no longer rumble at odd hours over the lane's half dozen speedbumps, under the full canopy of honey locust trees. They no longer pass the white ranch-style wooden fences and the deep, front lawns of the family homes. Those dependable knights of the night, heading out to neighborhoods near and far, no longer ride.
My kids are the sixth-generation Winders to call Winder Lane home. Some say there is milk in our veins! My 90-year-old Grandma Winder is still next door, and 92-year-old Grand Aunt Marion is next door to her. In fact, cousins and relatives still occupy all six of the family homes that line the east side of the old lane leading up to the former dairy site. (When we die, we just move west, across the lane and ditch, to be buried in Valley View Memorial Park—a cemetery the family started back in the 1950s.) Yet, a dairy no longer presides at the top of the Lane as it has for decades.
On Friday, July 5, 2019, the last Winder Farms home deliveries were made. "The milkman no longer cometh," cried the headline in The Salt Lake Tribune.[i] "End of an era," declared Fox 13 News.[ii] Indeed, in the nearly 140-year run, the Winder milkman was a fixture on porches from Logan to Las Vegas—and even Orange County, California.
PIONEER BEGINNINGS, 1880-1910
At the head of a hallway in my home is a portrait of John Rex Winder, family patriarch, watching me through his spectacles, with a hint of a warm smile beneath his milk-white beard. As his biographer, I feel I know my great-great-great grandfather better than any man I never met.[iii] It is this enthusiastic entrepreneur who first set in motion the delivery business that would roll for well over a century.
An Englishman born in 1821, John joined the Church of Jesus Christ of Latter-day Saints in Liverpool. He brought his young family across the ocean and plains to the valley of the Great Salt Lake in 1853 and started a tannery. In 1865, John R. purchased an 80-acre tract between 300 East and 400 East, and from 2700 South Street south to Mill Creek. He built a large farmhouse and surrounded his new country home with Canadian poplar trees. It was there, at Poplar Farm, as it became known in the valley, that he took great pleasure in accumulating a herd of purebred Jersey cattle.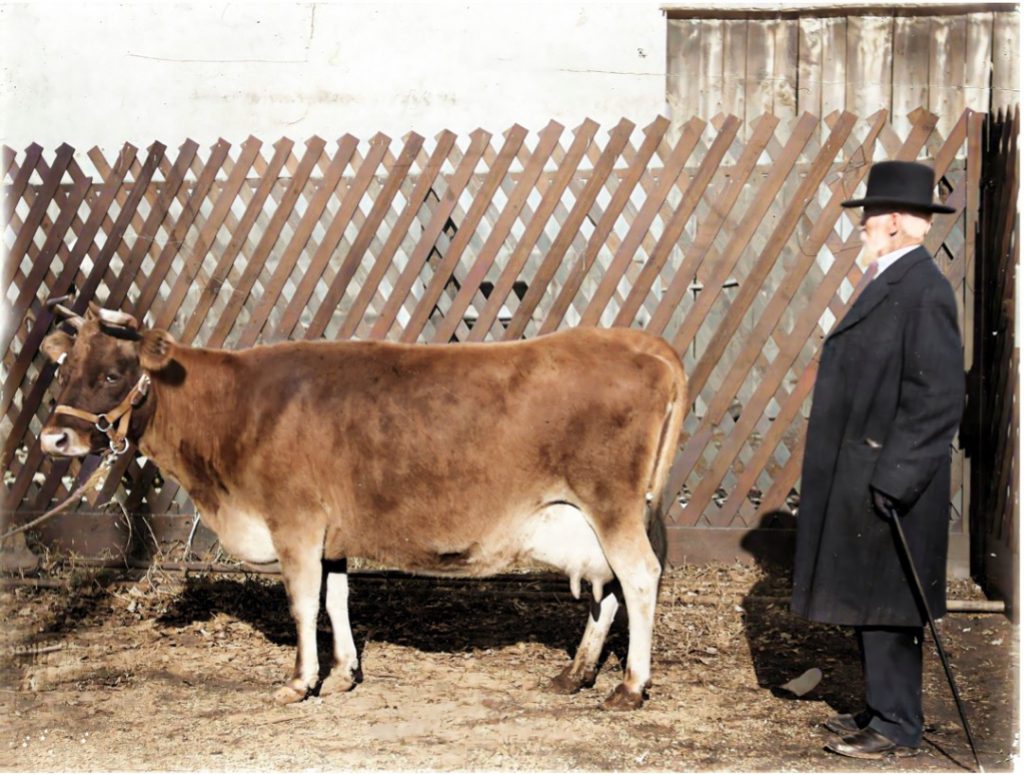 The cattle that the pioneers brought with them across the plains were varied specimens of Shorthorn, Devon and Hereford types; but the great milk-giving varieties of Holstein and Jersey cattle did not appear in Utah before the 1860s.[iv] "Many purebred Jersey cattle were brought from the Jersey Isles," my great-uncle Shirl Winder recalled. "This foundation stock would later form the basis of the Winder Dairy herd for over one hundred years."[v]
John R. Winder would be called "Father of the Utah State Fair" for his pioneering efforts with the fair's forerunner, the Deseret Agricultural and Manufacturing Society. Great Uncle George once told me that the Winders took first prize at the fairs with their fine Jersey cows for years, "until Joseph F. Smith's sons and some of the Cannon boys began to import cattle directly from the Island of Jersey."[vi]
By the 1880 Agricultural Census of the Utah Territory, the Winders' Poplar Farm consisted of $2,500 worth of fine livestock and three times as many "milch cows" as other farms in Millcreek. Meanwhile, John R.'s wife that lived at Poplar Farm, my ancestor Elizabeth Parker Winder, enjoyed making butter, which she sold to friends and relatives in the city. In 1879, she had produced 750 pounds of butter at Poplar Farm.[vii]
In 1880, however, Elizabeth and the family began selling much more than butter. On April 17 of that year, the family began delivering milk to some neighboring homes and the Continental Hotel and Valley House downtown. Once the Knutsford Hotel opened in 1891 on the northeast corner of State Street and 300 South, they became a major customer, as well.[viii] From those humble beginnings grew what became Winder Dairy.
Winder's dairy quickly became well known for the rich, pure Jersey milk. The cows would have their first milking at night, and the milk was collected in five-gallon cans and stored in the fifty-two-degree well water in the Poplar Farmhouse basement to keep it sweet overnight. The cows would have their second milking early in the morning and the morning milk would be quickly cooled by being hurriedly stirred into the cold night milk that had been stored in cans in the cold well water. The raw milk would then be taken for immediate delivery on the milk wagon, arriving to the customers within hours of leaving the cow.[ix]
Winder milk was stored in milk cans, some as large as ten gallons. When the milk wagon stopped at a customer's home, the milkman would reach into the can with a one-quart dipper and scoop the milk, pouring it into the customer's pan. The customer would later wait for the cream to settle on top, which they would skim off and turn into butter and whipping cream.[x] Often, especially for larger orders, the milk cans were left for the customer one day and collected the next. Three-gallon cans were left for the hotels, and one-gallon cans for the residential customers.[xi]
One of my favorite stories from the early days of the business that my great-grandpa Ed would tell was how the family had to leave for church extra early on Sunday mornings. This was because the horse that pulled the milk wagon also pulled the family carriage and would, out of habit, want to stop for a moment at each house along the way that she recognized as a delivery customer![xii]
Poplar Farm became well known throughout Salt Lake County, with its stately trees, kind hospitality, and famous dairy products. One contemporary wrote, "Scores directed the course of their afternoon rides there to imbibe the delicious butter-milk from the ice-cold tankard in the cellar."[xiii] Even Wilford Woodruff, the president of The Church of Jesus Christ of Latter-day Saints, found time to stop by. "I visited the J. R. Winder Creamery and 20 Jersey and Holstein Cows all of which were in lowing," he once penned in his famous journal.[xiv]
Elizabeth Winder tragically passed away on Christmas Day 1883 from muscular dystrophy, but John R. continued growing the business with his family until he became too involved with church and civic affairs and left their son William C. Winder (my great-great grandfather) to run the farm and dairy. In 1887, John R. was called to lend his financial talents to the church's Presiding Bishopric, and in 1901 President Joseph F. Smith tapped Bishop Winder to serve as his first counselor in the church's First Presidency.
President Winder shared time between a city home and Poplar Farm, where upon arrival he would promptly call his son Will to provide a full accounting of the farm's activities. He was quite proud of Will, as he built modern barns and the first silos in Salt Lake County.[xv]
By 1907, the Winders were some of the first to bottle milk in glass bottles. Other Utah dairies, like Beckstead Dairy, Cannon Brothers, Green Brothers, Bountiful Dairy, Keystone Creamery, Milner Dairy, and Mila Loma Dairy in Ogden were also among the pioneers of glass bottles.[xvi] The heavy glass bottles were put into cases that held twelve quart-size bottles. The case would be placed on a platform where a lever was pulled that raised the case up to the fillers. After they were filled with milk, the bottles were capped with "plug caps" made of baseboard, which were stamped "Winder Dairy: Pure Jersey Milk."
Also in 1907, the dairy herd was moved from the "Old Place" on 300 East and 2700 South to Will's farm, just one block east.[xvii] The company founder passed away three years later in 1910. John Rex Winder's business success was manifest in the fact that he left behind the equivalent in today's dollars of over $4,000,000, according to probate records (a fortune that historian Michael Quinn lists as one of the largest of any LDS General Authority of the period).[xviii]
SECOND GENERATION, 1910-1931
The Winder family owned ten acres at 1100 East and 3300 South where they raised alfalfa and other grains for the animals. However, a boll weevil pestilence hit Salt Lake's east bench, so in 1910 the Winders traded that property to Amos Gabbott for 32 acres on the west side of the valley and out of reach of the weevils. "The 32," as it came to be known, was located in the Granger area where Charles Drive runs today (about 4480 West and 4100 South).[xix]
In 1915, the Winders bought 73 more acres in Granger for $22,500 from a Mr. Evans, which was located east of "the 32" and where Winder Lane now is and where the business ultimately would relocate to (south of 4400 West 4100 South).[xx]
That year the family also acquired its first milk truck, an old Ford that George noted "didn't work very well." When they would drive this "horseless carriage" over Salt Lake's many streetcar tracks, the pressure would compress the inflatable tires and they would often pop. By 1916, the family was fed up with the Ford and sold it, gladly returning to the traditional horse and wagon method of delivery.[xxi]
In those years, the cows were milked by hand twice a day, which meant shifts beginning at five in the morning, and again five in the evening, with each shift taking about two hours. The milkmen would also come early to the dairy seven days a week to clean the horses and their stalls, harness the horses, hitch them up to the wagon, load up the cases of milk, and set out to deliver. George told me of an Englishman that worked for them that joked he was "dressing the horses" each day.[xxii] Another deliveryman, Brig Smith, noted "one of the most important things a milkman had to know was how to handle horses."[xxiii]
Once the Winders bought a horse from Salt Lake City Hall for what seemed like a very good price. What the family didn't realize, was that the horse had been used for years pulling the wagons for the city's fire department. One day, while milkman Harvey Corbett was delivering with this horse pulling the dairy wagon, the horse-drawn fire engine came roaring down the street, bells clanging, en route to a fire. The dairy horse instinctively took off at a gallop going along with the fire department, tipping over the wagon, breaking the milk and causing a lot of problems.
Finally, enough was enough, and in 1928 the Winder family purchased an International truck and never delivered by horse again. Great Uncle George told me that he recalled that Cloverleaf Dairy was the last in the valley to convert to the horseless carriage, using wagons into the 1930s.[xxiv]
By about 1918, Will and his son Jack realized that the dairy did not create enough business to support their two families. Jack began signing up some customers of his own, and soon built a barn at 2300 West and 3500 South, thus founding the John Rex Winder Dairy (Jack's full name was after his grandfather). This new J.R. Winder Dairy delivered between 900 South and 2700 South, while the original Poplar Farm Winder Dairy delivered north of that, into downtown Salt Lake City.[xxv]
In 1922, Ed and his wife Alma built their home on Winder Lane in Granger, where he could help oversee the family property there. With its circular driveway and beautifully columned front porch, Ed's house remains the oldest family home on the lane. He began buying milk from other dairies in the valley in 1925. He would take the milk to the white shack behind his house where he would allow the milk and cream to separate. Then, each morning Ed would put the cream in his Dodge and drive it over to his father's farm on 2700 South to be bottled, selling some to his brother Jack at the J.R. Winder Dairy on the way. Ed was also continually hauling hay from the fields in Granger to the herd at 2700 South. Often, there was construction on those early Jordan River bridges, requiring a two-mile detour for him to cross at the next bridge.[xxvi]
With the new property in Granger, other farming ventures were also tried. Some pigs came with the Evans land in 1915, and the Winder boys made a go of raising a purebred herd of hogs. But the pigs kept rooting under the fences and escaping, and many were hit with cholera.[xxvii]
A similar lack of success befell their attempts with turkeys, which began in 1926. Their prized tom turkey was killed by a neighbor's dog once, the turkey disease of black head struck another time, and a flock of their turkeys escaped out to Magna. They abandoned the turkey business and focused back on cows in 1929.[xxviii]
Dr. William Tenney Cannon, Ed's father-in-law, had a dairy in Hunter at about 5600 West and 3300 South. Dr. Cannon wasn't happy with the dairy and sold all of the city routes to Arden Dairy, which would later become Meadow Gold. The western milk routes, that served Magna, Hunter, Garfield, and Pleasant Green, were bought by Ed in 1928, who ran it with his brother George as Winder Brothers Dairy. The first pasteurizer that the family used was acquired from the Tenney Cannon Dairy as part of the deal, although it was a poorly built machine made of copper.[xxix]
GROWING IN GRANGER, 1932-1949
The multiple dairy locations were becoming increasingly unwieldy, and the Winder boys prepared to merge them all together. In 1928, Ed and George built a 15' X 30' building at the Granger site, with a high, sloping roof and a spire on top. This was to be the new dairy plant. In 1931, George built a home on Winder Lane south of Ed's where an orchard once stood. A milking barn and feed barn were built, using wood from old barns at Poplar Farm for lumber. Sixteen additional acres were purchased in Granger, located east of the "32" on 4100 South, bought from John Burt for $150 per acre.
Finally, in 1932, the three dairies merged to the Granger site. The thirty Jersey cows at the 2700 South dairy farm were trucked out a few at a time. Jack's cows at 3500 South were herded the three miles to the new location. I remember my Grandpa Ned Winder (Ed's oldest son) telling me about helping to drive the herd west as a ten-year-old boy. "As the procession came to each intersection traffic would have to be held up until they had passed through," wrote Aunt Marion. "Those that helped with this remember it as being quite a wild day."[xxx]
Combined, the new Winder Dairy now boasted fifty cows. William C. Winder, age 74, finally retired (moving in with Ed and passing away in 1937). My grand aunt Marion told me she remembers his bushy mustache and him living his final years in their home. The ownership of the new, combined partnership was held by brothers Jack, Ed, and George.
But the consolidation of the three Winder Dairies was still not enough by itself to survive the Great Depression. In 1933, Ed got a job with the Utah Farm Producers Credit Association, an agency of Roosevelt's New Deal, and Jack became State Farm Insurance's first agent in the state. This left George to run the dairy, in addition to other side jobs that came up like helping in the gravel pits in Taylorsville, paving North Temple Street, and serving a couple of terms in the Utah House of Representatives. Each month the brothers pooled their income from all of their various jobs and then divided the money equally. This "united order" kept each family with a relatively stable income, despite the dramatic ups and downs that each job faced individually.

Another way the Winders combated the Depression was by buying a bigger truck and consolidating the other milk routes into one. Both George Jorgensen and Parley Liddle, a grandson of William C. Winder, ran the route. Business continued to grow, however, and they were delivering to 100 customers per day, seven days a week, with each customer taking between one pint and six quarts daily. A balance sheet from 1939 shows Winder Dairy with total assets of $83,776 by the end of the year. In 1940, the family doubled the size of the dairy building, and added an automated rotary filler, as well.
The dairy's chief competition at the time were the Salt Lake Milk Producers, which included Cloverleaf, Meadow Gold, and Brainard's Cottonwood Dairy, along with about forty other smaller dairies. The smallest dairies in the Salt Lake Valley began going out of business in the 1930s, giving way to larger dairies, such as Hi-land Dairy.[xxxi]
Yet, Winder's business grew, especially as the economy picked up with the onset of the Second World War. In 1942, the Kearns Army Base opened nearby, and Winder Dairy was awarded the account because it had a far better record with the Board of Health than its competitors. Also, that year the War Production Board required home delivery dairies across the country to conserve fuel by only delivering to each customer every other day. By this point, Winder Dairy had four routes each day going out.[xxxii]
George's wife Lorna helped with the bookkeeping and ran the office work out of their basement in their home next to the dairy. "The office became crowded with workers and milkmen as they checked in," recalled Marion, who as a young woman began helping there. "It was especially bad when the extra girls came in to do bills at the end of the month. Sometimes the girls even had to work in the kitchen when the office rooms became too full."[xxxiii]
Jack's son Phil Winder started working at the dairy as a 12-year-old in 1942. For 75 cents per day, he would help in the milking barn and tag along with drivers to assist. "Some new drivers who
Ormand Coulam trained would ask him how on earth could they ever learn where to stop," Phil recalled, "He told them that if the horses in the old days could learn where to stop, surely they could." Phil also shared with me, "In 1942, I went with Dahle Petersen as a helper. We would stop each morning before we started the route at an all-night coffee shop on 21st South. Dahle made the statement that the only people out that early hour were 'thieves, whores and milkmen.'"[xxxiv]
The winter of 1948-1949 was the coldest and snowiest in Utah's recorded history, and in February of '49 the snow drifts were so high that "cows could walk right up the snow and out of their pens," recalled Marion. "Drifts reached the roof of the farm buildings." The blizzard was so bad on the west side of the Salt Lake Valley that both 3500 South and 4100 South streets became impassable, stranding Winder Dairy's delivery drivers downtown. They ended up staying two nights at the Miles Hotel and competitor Meadow Gold Dairy bailed them out with extra milk to deliver. "It was strange for Winder Dairy customers to see their milkmen delivering milk in Meadow Gold bottles," Marion said.[xxxv]
THE MILKMAN'S GOLDEN AGE, 1950-1981
In the "Leave It to Beaver" world of post-war America, there was nothing more quintessential than the milkman going house-to-house with clanking glass bottles, and the next couple decades were a Golden Age for Winder Dairy.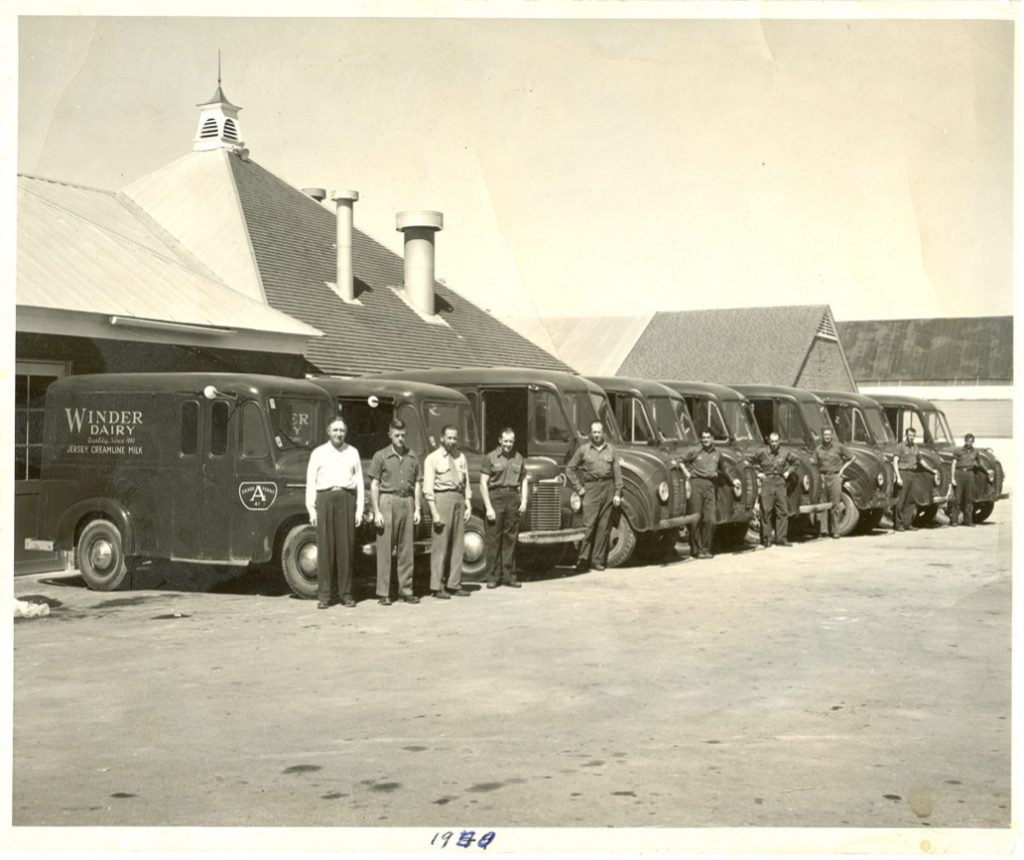 In those days, my Grandpa Ned and his brother Rich delivered many of the milk routes. "Once I was running along the side of a boarding house on 1300 East with both hands full of milk en route to a customer," Grandpa said. "A lady came out of the boarding house, as I'm sure she habitually would do, leaned over the porch and dumped a large tub of dirty wash water over the side. It hit me full blast and about drowned me!" Grandpa Ned said that later, this same woman asked him for some of the dairy's laundry detergent. He accidentally delivered to her a bucket of powdered milk which she used as laundry detergent and made a mess of everything. Ned worried for years that she believed he did it intentionally to get back at her for the dirty wash water.[xxxvi]
"Many customers would request that I put their milk just inside their door, or even sometimes right in their refrigerator," Grandpa told me. "It was always embarrassing to sneak in with the milk and catch people in their nightgowns or jammies. It was sometimes fun to see those good customers at a ball game or elsewhere and say, 'I didn't recognize you with your clothes on!"[xxxvii]
Grandpa Ned told me once of a time when he was covering for a regular driver, and the instructions said to deliver the milk inside. He dutifully entered the house, greeted the family who were sitting around reading the newspaper and eating breakfast, walked right up to the fridge, opened the door and realized that it was full of a competitor's products. Realizing he was in the wrong house; he promptly took his milk and bid farewell to the family as he left the house.[xxxviii]
"One early morning I was driving my milk truck eastward down 3300 South under the Rio Grande Railroad underpass," he shared. "It was about four in the morning. Then all of a sudden, CRASH! An attempted suicide had leaped from the overpass and gone right through my windshield on the passenger side. Having failed in his attempt with my milk truck breaking his fall, I drove him straight to the county hospital. That really gave me a scare!"[xxxix]
Grandpa Ned accumulated lots of great stories delivering milk through the years. "Once as a milkman I was delivering up on Ramona Avenue, about 500 East," he explained. "The front room window on this house included a long, low pane of glass. As I was running up to put the milk on the porch, I slipped on the icy surface. I went crashing right through the window and into the house. I was still gripping a few quarts of milk in each hand, and the man of the house, sitting in a chair reading his morning paper, casually looked down at me and said 'Next time just leave it on the porch!'"[xl]
The office for Winder Dairy moved in 1951 from Great Uncle George's basement to a new building that also had space for a shop to maintain the vehicles. As the company grew, a new, larger office building was built in 1964.
In the early 1950s, the Dick Harris advertising firm helped the dairy rebrand the trucks, and they changed from blue to their bright yellow color that would be a trademark for the next seventy years. In 1952, a swimming pool was built near the dairy for the families on the lane and even employees to enjoy. A source of water for fire suppression, the swimming pool water ran through pipes into the dairy plant to cool the equipment while also heating the pool some.[xli]
In 1954, the Winders jumped at an opportunity to purchase 32 acres from the Penman family for $33,000 and connected all of their Granger properties for the first time. The old cornfield in that acreage was turned by the family into a cemetery business—Valley View Memorial Park. Ed's son Rich Winder was indispensable in growing this new business.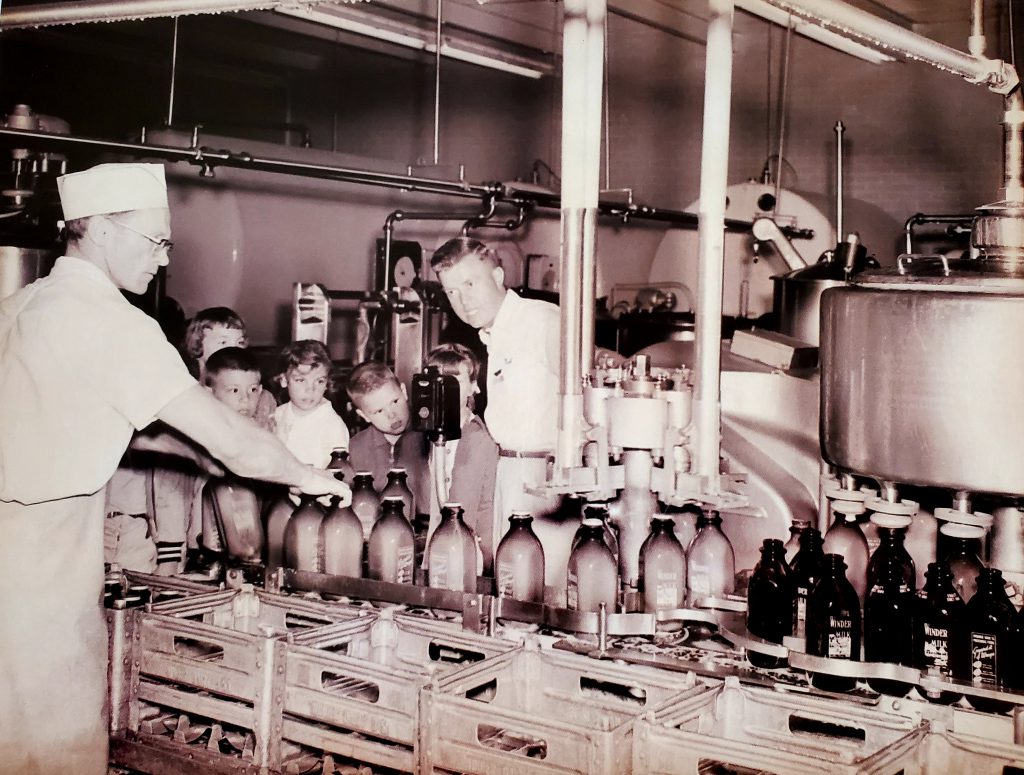 The growing business required a new milk processing plant, which was built in 1958, complete with an adjacent cooler warehouse and twelve docking doors for trucks to load out from. Jack's son, Pete, who graduated from Utah State in dairying, oversaw the production of cottage cheese, yogurt, buttermilk, and more. The business quickly outgrew the new plant and icebox, and in 1963 the plant was added to, along with twelve more docking doors.
The old milk plant building from the '30s was turned into a bakery in January 1958 so that fresh baked bread could accompany the cold milk each morning on the deliveries. Between the new cemetery and the new bakery, Grandpa Ned loved joking that the slogan should be "Drink our milk, eat our bread, and let us bury you when you're dead!"
Winder Dairy became a popular place for school classes to visit. "For many years, we had over 15,000 school kids annually come out to the dairy for field trips," Grandpa recalled. "As a place where kids could see cows, a processing plant, and a bakery all in one place it was the ideal destination. I organized a tour and enjoyed showing these many kids what we did. They would receive a workbook, a Winder Dairy pencil, and a half-pint of chocolate milk."[xlii]
Countless Baby Boomers have told me of fond memories visiting the dairy on field trips in the 50s, 60s, and 70s, with Grandpa Ned entertaining them on the tour. "On one tour I had a teacher ask me what the bulls were used for, which I found rather funny," he recalled. "On another tour I had just opened the door leading to the bakery and we were all surrounded by the aroma of fresh baking bread. 'Oh my, boys and girls!' exclaimed the energetic teacher, 'Did everybody smell what Mr. Winder just let out!' Her phrasing it that way left me a little embarrassed."[xliii]
Another public outreach in that Golden Era was the annual "Open House" held on site. Two Sundays in May (and eventually two Saturdays, as well) were set aside for "Family Day" and from 1950 to 1969, Winder Dairy customers were invited to bring their family and enjoy a day at the farm. Tours were given, punch and cookies were served, and pony cart rides and a few carnival rides were set up. All of the Winder kids and grandkids helped these popular events run smoothly until the customer count grew too large to accommodate everyone and they were discontinued.[xliv]
Another exciting day at Winder Dairy was in June 1965, when Hollywood legend Buster Keaton filmed a brief commercial film for U.S. Steel at the farm. Dairy employee Reid Petersen showed Keaton how to run a tractor, and Eleanor Keaton (who was accompanying her husband) told the press that "she had never seen a more picturesque dairy anywhere, than Winders."[xlv]
The business was not without its challenges in those years. The Utah daily newspapers on April 21, 1955 had an open letter to the state legislature, taken out as a full-page ad by Winder Dairy. The family was protesting the entry of supermarkets into the market who were selling milk below cost. "For the first time in our long history we are faced with destructive competition from Safeway, a large national grocery chain that processes its own milk and indicates it may sell at a price that would be disastrous to dairy farmers and processors."[xlvi] The low prices at the supermarket began the melting away of America's home dairy deliveries. By the mid-1960s, a USDA agriculture surveys showed that only 30% of Americans were still visited by the milkman each week.[xlvii]
In March 1962 the dairy's hay barn caught fire, and neighbors and fire fighters spent the entire night successfully containing the blaze.
In 1969, the Utah Legislature passed a Sunday closing law and the dairy went to delivering just six days a week. More of Winder Dairy's competitors began to go out of business because of the rise of supermarkets and cheaper milk.
Another challenge was the growth of suburbia in Granger. Complaints of farm machinery noises at odd hours and the smell of cows rose, as did the value of real estate. In 1973, Winder Dairy sold the Jersey herd and began purchasing raw milk from other family dairies with higher producing (but with lower butterfat) black-and-white Holstein cows. The processing continued at the dairy, and the area incorporated as West Valley City in 1980.
With customers becoming increasingly price sensitive, a second label was launched, "Valley Farms." While keeping Winder Dairy as the premium brand, they sold milk with this label as a more cost-effective alternative. Ned's son Kent (my dad) went door to door and built-up hundreds of customers for the new line.
FIFTH GENERATION EXPANSION, 1982-2003
Not long after Winder Dairy celebrated its century mark, it underwent a major change in ownership and management. Ed, George, and Rich Winder sold their interests to Parley Liddle (one of George and Ed's nephews), his son Gordon Liddle, and businessman Gil Fuller. Grandpa Ned stayed involved, as did my dad, Kent. Rich's son Bob Winder helped with the accounting, and Marion's son Tom Wynn managed the plant. This change, which took effect March 31, 1982, saw the dairy transition from a partnership to a corporation.[xlviii]
Gordon Liddle was the new president, Gil was treasurer, and Kent was general manager and eventually vice president. The Liddle family had a farm on West Mountain in Payson, which ultimately supplied 1/3 of the milk needs for the business. By 1990, over 2,000 cows were needed to supply Winder Dairy with enough milk for the growing customer base. Gordon's father Parley, along with brothers Tom and Joe Liddle, helped manage the farm. I have many fond memories as a boy going with my dad to Payson for the day to work with the cows and complete various projects in need.
The new team was innovative. The old wooden and metal porch boxes were replaced with insulated porch coolers that better kept the milk cold. Product growth beyond dairy and bakery included everything from ground beef and freezer jam to garden compost and water softener salt. Flavored milks were tried, and customers delighted in orange-vanilla, banana, "Vivacious Vanilla," peach, cookies and cream, mint chocolate, and even root beer float flavored milks.
Various new containers for the milk (even plastic bags) were experimented with, ultimately transitioning away from glass bottles in 1985 to a hard-plastic bottle made from polycarbonate. These clear bottles could be reused nearly 100 times without the dangers of glass.
I became very familiar with those bottles. In the 1990s, I spent many high school summers and weekends working in the plant. I ran the bottle washer, the milk filler, and was a "bottle watcher" inspecting the newly sanitized bottles and removing cracked ones from the conveyer line. With cousins and friends, we used to staple the monthly customer newsletter to their respective bills, an end-of-the month ritual that resulted in many bruised hands from hours of stapling!
Gordon and dad turned the old milking barn into a Country Store in 1983. It was a wonderful combination of an outlet store, ice cream shop, and employee cafeteria. For many years, the Winder Country Store boasted farm animals. Horses, calves, sheep, pigs, and chickens were housed in the old calf barn next to the store, much to the delight of young visitors. My cousin Wade Winder, who lived nearby, had the job of feeding the animals twice a day, and many of us cousins had fun helping him with those chores.
Grandpa Ned, who lived on Winder Lane, was famous for smothering his house in Christmas lights each year. The other homes on the lane joined in the fun, too (including dad after he purchased Great Uncle George's old home at the top of the lane in 1996, and me and my wife Karyn after we bought Grand Uncle Rich's home in 1999).
The Country Store capitalized on this by serving scones of deep- fried dough slathered with honey butter. Going to see the lights on Winder Lane, complete with scones and hot chocolate and egg nog, became a favorite holiday tradition of many in the valley.
Home delivery grew under Gordon and dad's leadership, reaching 20,000 homes per week by 1996. As more and more home delivery companies folded, Winder Dairy picked up those along the Wasatch Front who still valued the freshness and convenience of the milkman. Many customers realized that even though milk through Winder home delivery was more expensive, the quality was better, and they saved money by reducing trips to the grocery store and the inevitable impulse purchases that always happened. [xlix]
I still remember how excited dad was when he negotiated the purchase of the final Cream O'Weber – Highland home delivery routes in 1985. This added forty new routes and extended the company's footprint north to Brigham City, and soon we also grew south to Payson, east to Park City, and west to Tooele. Distribution warehouses in Ogden and Orem had country stores of their own, along with a store in Bountiful. By the 1990s, they had extended the dairy's reach to St. George.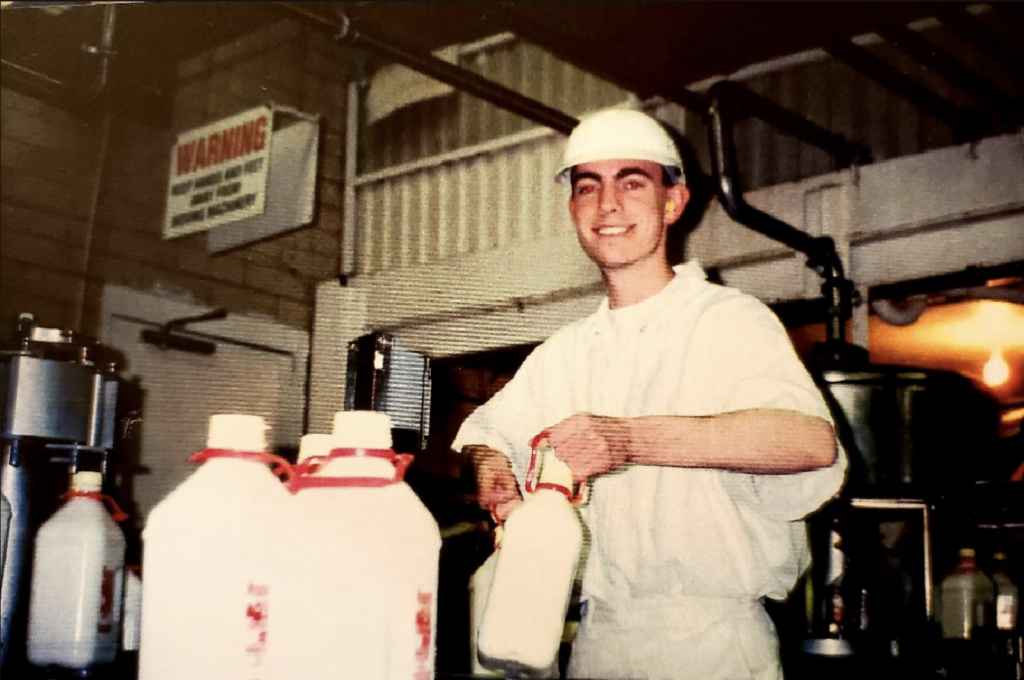 During these years, the family business also grew beyond home delivery. Many Harmon's and Dan's supermarkets began carrying Winder Dairy products, along with Holiday Oil convenient stores and many restaurants in the state.
While attending business school at the University of Utah, I was made sales manager and tasked to build a team of door-to-door sales representatives to grow home delivery. I began with one former milkman who was excellent at the task, Dave Reich, and built a team of 40. Despite attempts through the years of TV and radio ads, direct mail, and even telemarketing, no other method proved to be as cost effective as door-to-door reps. Many were especially effective utilizing product samples and staffing booths at farmers markets and community festivals.
With both Gordon and Kent having children involved in the business, it marked six generations of Winders to participate. Gordon's wife Linda managed the payables in accounting, their son-in-law John Lamb was the distribution manager, their daughter Deborah Colby was human resources manager, and her husband Curtis Colby was a driver manager and over collections. I remained as sales manager until my graduation with my MBA in 2000, when I was hired to work in economic development for West Valley City.
THE MILKMAN'S RENNAISANCE AS AN ONLINE GROCER, 2004-2019
In February 2004, company president Gordon Liddle had a sudden heart attack while working at the farm in Payson. His passing on February 7, left a family and company in mourning, but also at a crossroads. The business was highly leveraged by this point, and the problem of large debts was exacerbated by a controller who had been overstating good financial news and understating bad news for years. Kent Winder, who became acting president, worked with shareholders to craft a path forward. As part of this effort, I was recruited from West Valley City Hall back to the dairy as vice president of marketing to do what I could to help keep the business growing. I was optimistic that we could figure out something that would work to move forward.
Meanwhile, a group of local investors from Park City-based Dolphin Capital became aware of the opportunity to invest in Winder Dairy. "We saw the company as Webvan, but profitable," said Eric Jacobsen, managing partner of Dolphin, referring to the dot-com online grocer that grew too fast and went bankrupt in 2001. By August of 2004 they had assembled the cash to purchase the assets of Winder Dairy, with assistance from Cottonwood Heights-based Peterson Partners. For the first time since 1880, the business was now majority owned by investors outside the family. Although now minor stakeholders, the Liddle family, along with Grandma Gwen, my dad Kent, and I all had some ownership in the new entity, Dolphin Winder LLC, doing business as Winder Dairy.[l]
Before the deal with Dolphin was inked, however, they insisted that the family sell off the Liddle Farm in Payson. "It's a tough business milking furry critters, bottling amazing milk to the highest standards, and delivering to homes through the night," I remember Eric saying. "We will tackle two of those challenges, but not all three. Sell the farm." Dad spent countless hours that spring and summer selling equipment, cows, and property to retire company debts. Now, instead of 2/3 of the milk coming from non-family farms, 100% was.
It was an exciting summer as the "New Co" moved in to help shape the next chapter of Winder Dairy. Eric Jacobsen took on himself the role of CEO, with his partner from Dolphin, Mike Dutton, as COO. Both educated at Stanford, these savvy entrepreneurs brought new energy and ideas to the business. They brought on Eric's brother Arne Jacobsen to help with sales, Harvard MBA Ken Jacquin as CFO, and Steven Colopy as CTO to help bring the business's technology into the twenty-first century. Dad and I, along with John Lamb, remained part of the executive team and provided some important institutional knowledge.
"We love our 125-year-old startup," we would often say to each other, as the old family business really took on more of a feel of a Silicon Valley startup.
Important logistical steps were taken to streamline the operations. Deliveries were now made to everyone once a week, instead of twice, eliminating the need for Saturday deliveries for the first time. Deliveries were also shifted earlier, with driver loading out around 9:00 PM and guaranteeing deliveries by 8:00 AM. This was a welcome change for the customers who wanted their delivery before leaving for work in the morning, and also was a better time for the drivers' sleep schedules.
The century-old tradition of leaving the milkman notes in the porch boxes to change an order was discontinued, but the website and online ordering became easier than ever. Drivers now used handheld computers to keep track of orders and directions to the next house instead of the old binders stuffed with papers.
In 2005, only 0.4% of the milk in the country was sold via home delivery, so Arne and I ventured out to learn best practices from some of the few remaining firms.[li] We flew to New England and explored the creative dairy branding at Stew Leonard's in Connecticut, visited the black-and-white milk trucks of Munroe Dairy in Rhode Island, and saw the unique combination of home delivery and "dairy bars" at Crescent Ridge in Massachusetts. We then flew to Chicago and toured Oberweis Dairy, getting excited about how so many of these home delivery outfits had resurrected milk in glass bottles. Finally, we joined dad and Mike Dutton in Denver to talk strategy with Royal Crest Dairy.
The result of that whirlwind national tour and then a rebranding exercise led by Love Communications resulted in the first major rebrand the company had since the 1950s. Winder Dairy officially became Winder Farms in a celebration of its 125th anniversary attended by Utah Governor Jon Huntsman.
We embraced the idea of "freshness delivered to your door" becoming a "farmers market on wheels." We brought back milk in glass bottles, and I led the new product development. We began selling fresh fruits and vegetables on the routes, local specialty cheeses, meal kits, produce boxes, and premium meats. We even added hams and turkeys at the holidays, experimented with pizzas, and found success with Rico brand Mexican foods. As we grew the product line to 300 items, we focused on organic and all-natural products, including our flagship milk, which has always come from cows not treated with artificial growth hormones.
During those years there was also geographic expansion. We began serving Logan and Cache Valley out of our Ogden warehouse and reached south to Payson and Nephi from our Orem warehouse. From St. George, we crossed state lines for the first time and began delivering in Mesquite, Nevada. Finally, in 2006 we made a big jump by opening a warehouse in Las Vegas and began delivering in Clark County, Nevada.[lii]
My parents, Kent and Sherri Winder, moved to a condo in the Summerlin area for four months to assist with growing the business there. At its peak over 10,000 customers were delivered each week in Nevada, in addition to the 28,000 in Utah. The property in West Valley that the company was on was sold to investor Brett Lasorella and then leased back to free up cash for the interstate expansion.
After some of these major changes, Eric stepped back as CEO to focus on other Dolphin investments, although remaining as chairman of the board. Mike Dutton was named the new president, eventually passing that torch on to Melanie Robinson. When I was elected mayor of West Valley City in the fall of 2009, I left full time employment at Winder Farms, but continued to consult with them as needed.
When the company celebrated its 130th birthday in 2010, Utah Governor Gary Herbert came out to help blow out birthday candles. Winder Farms won "Best of State Dairy" in Utah, was listed on Mountain West Capital Network's "Utah 100" as one of the fastest-growing businesses in the state that year, and also was named among Inc. magazine's 5,000 fastest-growing companies in the country.[liii]
Winder Farms won national recognition in 2012, taking first place in the White Milk and Lowfat Chocolate Milk categories at the World Dairy Expo Dairy Product Championship Contest in Madison, Wisconsin.[liv] My big sister Aimee Winder Newton built the brand as a featured chef on ABC4 Utah's "Good Things Utah" television program, using Winder products, of course.
In January 2013, Winder Farms entered its third state when it purchased Santa Ana, California based Rockview Dairy. A new warehouse was opened in Anaheim, and the Golden State arm of the business grew to 40 employees and 5,000 customers.[lv] In November of 2013, the company celebrated a milestone of ten million products delivered that year.[lvi] My father, Kent Winder, after spending a lifetime in the family business, retired in October 2016 having seen amazing growth of the business in his career.
Yet, by the end of the decade, the company was facing operational challenges and industry headwinds. With aging bakery equipment, the bakery was outsourced in 2009 and no longer done in house.
The Country Store, long both a fixture and a distraction to the core delivery business, shut its doors in 2015. Had it been located closer to the busy street of 4100 South it would have been profitable. My daughter, Jessica, was working there at the time—representing the seventh generation of Winders to work in the business as she scooped ice cream.
As more competition came on from Instacart, Amazon groceries, Macey's Direct, and other grocery stores delivering or ramping up pickup services, the Winder Farms home delivery value proposition was decimated, and customer decline accelerated.[lvii]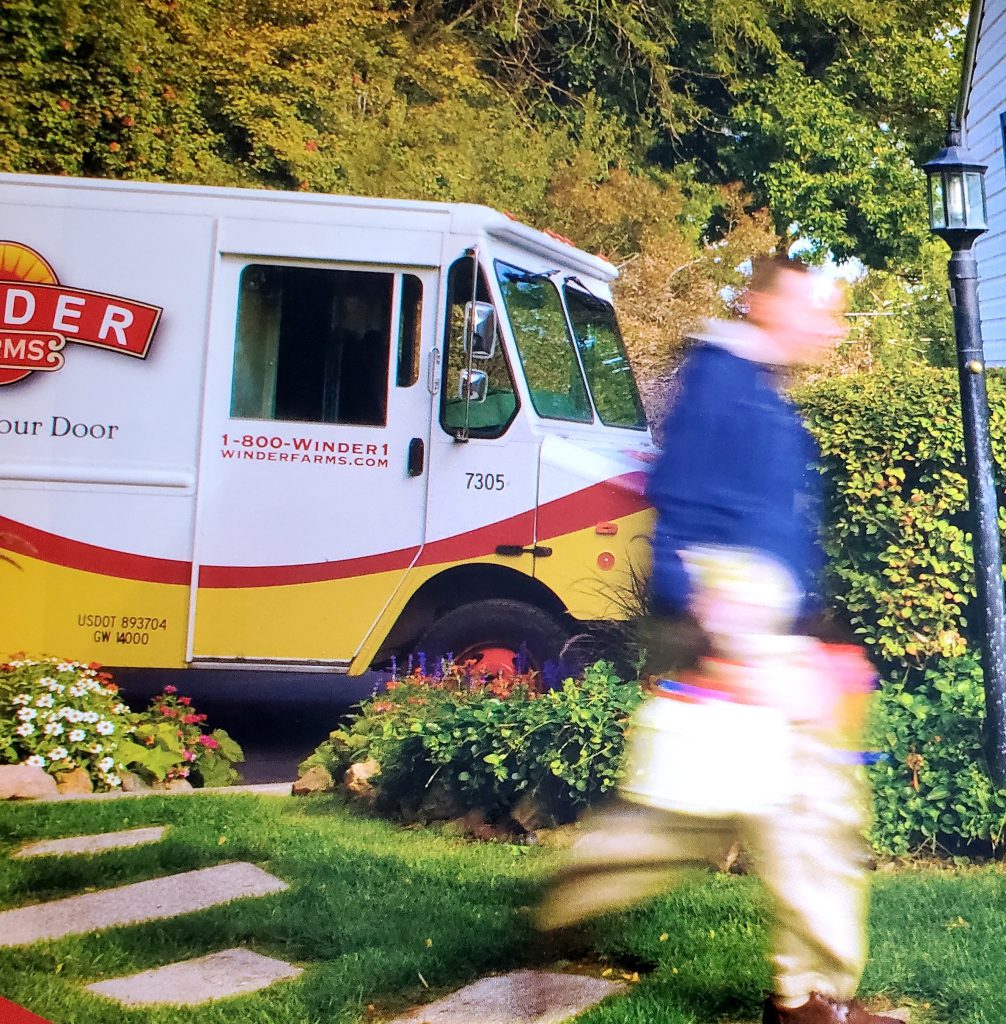 Further challenges came from the accounting department understating cash flow problems, a record tight labor market eroding away the door-to-door sales force, and aging plant equipment which would be cost prohibitive to replace.
The lease on the company's headquarter property in West Valley City was coming up at the end of July 2019. The ownership at the time decided to begin ramping down the cash-intensive sales efforts and phase out of home delivery. The milk plant production was outsourced to other dairy plants in the market, while still using the Winder Farms label.
With heavy hearts, it was announced that Winder Farms would cease home delivery on July 5, 2019, yet Winder products would continue to be sold in grocery stores. "There have been many changes through the years and we've continually adapted, since my great-great-great grandfather John R. Winder began selling milk," I said in a news release. "Now that we are two decades into the Twenty First Century, we must adapt once more."[lviii]
Leading up to these changes, company president Melanie Robinson moved on and Daniel Verrinder, who had been overseeing the company's sales to grocery stores for the previous dozen years, took the helm. With the business no longer bottling its own milk or housing a fleet of milk trucks, Winder Farms headquarters moved to a much smaller and less expensive leased warehouse space in western Salt Lake City's industrial area near 1800 South and 3200 West.
The dairy had been at the top of Winder Lane since 1932, so when the last Winder vehicles rumbled past the family homes in the summer of 2019, it was a sad day. Yet, as I look back on the countless people served by a phenomenal business over nearly 140 years, I feel immense pride. Our family (and many other employees that felt like family) worked hard and served others. Winder Dairy, and in the end, Winder Farms, did for seven generations something that only the Tooth Fairy, Easter Bunny, and Santa Claus normally get to do—we left wonderful goodies in the stealth of the night to delight people when they rose in the morning. And THAT is truly magical.
Notes
---
[i] Kathy Stephenson, "The Milkman No Longer Cometh." Salt Lake Tribune 21 Jun 2019.
[ii] Fox 13 News. "End of An Era: Winder Dairy to End Home Delivery." Fox 13 News 21 June 2019, https://fox13now.com/2019/06/21/end-of-an-era-winder-dairy-to-end-home-delivery/.
[iii] Michael K. Winder, John R. Winder: Member of the First Presidency, Pioneer, Temple Builder, Dairyman
(Bountiful, Utah: Horizon Publishers, 1999).
[iv] James A. Bennett, Hereford History in Utah: With Brief Reviews of Cattle Industry History in Utah and the United States (Logan: Utah Hereford Association, 1976), 15-16, 18.
[v] Harlan L. Bangerter, ed., William C. Winder Family History (Salt Lake City: Winder Family Association, 1981), MSW 4.
[vi] Ibid.
[vii] 1880 Utah Agriculture Census.
[viii] Kate B. Carter, ed., First Hotels, Laundries and Dairies in the West (Salt Lake City: Daughters of Utah Pioneers, 1943). Also, Bangerter, William C. Winder, 9; Nancy Gwen Winder, Winder Dairy (Salt Lake City: Unpublished manuscript in author's possession, 1973), 1.
[ix] Michael K. Winder, ed., Winder Dairy, Quality Since 1880: The George Winder Interviews, (Salt Lake City: Unpublished manuscript in author's possession, 1992-1995); Bangerter, William C. Winder, 21-22.
[x] The George Winder Interviews.
[xi] Jeff Richards, "Pioneer dairy grows with west side," Eagle Newspapers, 18 July 1996, 9.
[xii] Marion Winder Wynn, Winder Dairy (Salt Lake City: Unpublished manuscript in author's possession, 1974).
[xiii] The Young Women's Journal (Salt Lake City: 1889-1929), vol. xxi, 274.
[xiv] Scott G. Kenney, ed., Wilford Woodruff's Journal: 1833-1898 Typescript (Midvale, Utah: Signature Books, 1983-1985), vol. ix, 44.
[xv] Bangerter, William C. Winder, 5, 23-24.
[xvi] Robert J. Dalley, The Illustrated Guide to Utah Milk Bottles (West Jordan, Utah: Robert J. Dalley Publishing, 2016).
[xvii] The George Winder Interviews, 3-4.
[xviii] D. Michael Quinn, The Mormon Hierarchy: Wealth and Corporate Power (Salt Lake City: Signature Books, 2017), 174.
[xix] The George Winder Interviews; Wynn, Winder Dairy. The weevil scourge is also discussed in The Evening Standard (Ogden City, Utah) 1910-1913, April 27, 1911, retrieved online March 1, 2020, https://chroniclingamerica.loc.gov/lccn/sn85058397/1911-04-27/ed-1/seq-4/ocr/.
[xx] The George Winder Interviews; Wynn, Winder Dairy.
[xxi] The George Winder Interviews.
[xxii] Ibid.
[xxiii] Recollections of Phillip C. Winder, unpublished notes in author's possession.
[xxiv] The George Winder Interviews.
[xxv] Ibid.
[xxvi] Ibid.
[xxvii] Wynn, Winder Dairy.
[xxviii] Ibid.
[xxix] The George Winder Interviews; "Information Concerning Winder Dairy: For Use on Family Days" (Salt Lake City: Unpublished manuscript in author's possession, 1960).
[xxx] Wynn, Winder Dairy.
[xxxi] The George Winder Interviews.
[xxxii] The George Winder Interviews; Wynn, Winder Dairy.
[xxxiii] Wynn, Winder Dairy.
[xxxiv] Recollections of Phillip C. Winder.
[xxxv] Wynn, Winder Dairy; Mike Winder, Images of America: West Valley City (Charleston, South
Carolina: Arcadia Publishing, 2012), 42-43.
[xxxvi] Bret R. Bassett and Michael K. Winder, Ned Winder: The Antics and Adventures of a Utah Legend, (Salt Lake City: Salt Lake Mailing & Printing, 2002), 38-39.
[xxxvii] Ibid., 39.
[xxxviii] Ibid., 40.
[xxxix] Ibid., 41.
[xl] Ibid., 41-42.
[xli] Wynn, Winder Dairy, 15.
[xlii] Bassett and Winder, Ned Winder, 43-44.
[xliii] Ibid., 44-45.
[xliv] Wynn, Winder Dairy, 16.
[xlv] Ray Jean Jones, "Winder Dairy Scene of Motion Picture," Valley View News, June 3, 1965.
[xlvi] "An Open Letter to the Special Session of the State Legislature," by Winder Dairy, April 21, 1955, copy in author's possession.
[xlvii] Caroline Lange, A History of the American Milkman, September 9, 2017, https://food52.com/blog/20229-milkmen-history.
[xlviii] Letter to Winder Dairy employees by Ned Winder, March 26, 1982, copy in author's possession.
[xlix] Linda Thomson, "Dairy delivers milk and much more," Deseret News, November 21-22, 1996, D10.
[l] Jennifer K. Nii, "Winder Dairy is looking to future," Deseret News, March 11, 2005, retrieved online at
https://www.deseret.com/2005/3/11/19881411/winder-dairy-is-looking-to-future.
[li] Bonny Wolf, "The Milkman's Comeback Means Dairy At The Door And More," NPR, June 15, 2014, retrieved online at https://www.npr.org/2014/06/15/322147940/the-milkmans-comeback-means-dairy-at-the-door-and-more.
[lii] "Winder Farms has a running start on grocery delivery," Orange County Register, July 6, 2013, retrieved online at https://www.ocregister.com/2013/07/06/winder-farms-has-a-running-start-on-grocery-delivery/.
[liii] Dawn House, "Utah's old-time Winder dairy grows to online grocer," Salt Lake Tribune, October 12, 2010, retrieved online at https://archive.sltrib.com/article.php?id=50453500&itype=cmsid.
[liv] "Winder Farms Takes First Place at the World Dairy Expo Dairy Product Championship Contest," Vegas24Seven.com, August 17, 2012, retrieved online at https://www.vegas24seven.com/winder-farms-takes-first-place-at-the-world-dairy-expo-dairy-product-championship-contest/.
[lv] Orange County Register.
[lvi] "Winder Farms Reaches Milestone of 10 Million Products Delivered in 2013," Business Wire, November 19, 2013, retrieved online https://www.businesswire.com/news/home/20131119005548/en/Winder-Farms-Reaches-Milestone-10-Million-Products.
[lvii] Liesl Nielsen, "6 stores in Utah that will deliver groceries to your door," KSL.com, June 28, 2018, retrieved online https://www.ksl.com/article/46351747/6-stores-in-utah-that-will-deliver-groceries-to-your-door.
[lviii] Lauren Bennett, "Winder Farms announces it will no longer make home deliveries," KSL.com, June 21, 2019, retrieved online https://www.ksl.com/article/46579003/winder-farms-announces-it-will-no-longer-make-home-deliveries.