Scott Nielson
Utah History Encyclopedia, 1994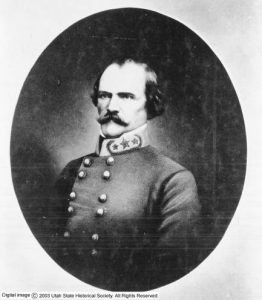 Albert Sidney Johnston was born in Washington, Kentucky, on 2 February 1803. He was educated at Transylvania University and then at West Point, where he graduated in 1826. Johnston impressed people with his intelligence and demeanor, and, consequently, he managed to climb the ranks rapidly.
He served in the army for many years, and saw action in the Black Hawk War; however, pressures from within his family caused him to resign in 1834. In 1836 he went to Texas to fight in the revolution occurring there. He served as Secretary of War of the Republic of Texas from 1838 to 1840. During the Mexican War Johnston led a Texas volunteer regiment and fought at Monterrey. He was reappointed to the U.S. Army in 1849, and commanded the Department of Texas from 1856 to 1858.
In 1857 President James Buchanan decided to name new officials for Utah Territory and to send with them a military escort to ensure their authority. In May, 2,500 troops were assembled to be dispatched to Utah. General William S. Harney was originally designated to head the campaign, but conditions in "Bleeding Kansas" caused him to remain in that state. In late August, Johnston was assigned charge over the expedition, now well on its way to Utah; but he didn't catch up with the troops until November. In the meantime, these events caused anxiety among the Utah Mormons, who believed that the United States was sanctioning their destruction.
On 15 September 1857 Brigham Young, Governor of Utah Territory, issued a decree that forbade entry of armed forces into the territory, and declared martial law. Young mobilized the local militia, known as the Nauvoo Legion. Army troops began to arrive at Ham's Fork on 28 September, commanded by Colonel E. B. Alexander. On 5 October, Lot Smith and his band of Mormons attacked and destroyed fifty-two wagons of U.S. Army provisions. On 3 November, Johnston caught up with his forces and pushed on to Fort Bridger, renamed Camp Scott, and prepared camp for winter.
In Washington, D.C., Buchanan was receiving criticism for launching an army without an investigation. Mediators began to leave for Utah to cease hostilities. By March, Mormons had decided not to resist federal authority. On 26 June Johnston led his army through Salt Lake City and then camped on the Jordan River before moving south to establish Camp Floyd. Johnston commanded the Department of Utah from 1858 to 1860.
When Texas seceded from the Union, Johnston resigned his commission and became a full general of the Confederacy. He was placed in command of all Confederate troops west of the Appalachians, and he implemented the defensive strategy of defending all points of invasion with isolated units. He attacked Grant at Corinth, Mississippi (battle of Shiloh), was wounded there, and bled to death on the battlefield. His contribution to the Civil War has undergone close evaluation and many disagree as to his impact upon the war. He is buried in the state cemetery at Austin, Texas.
See: Leroy R. Hafen, The Utah Expedition (1958); Charles P. Roland, Albert Sidney Johnston (1964); and Ezra J. Warner, Generals in Gray (1950).