Richard C. Roberts
Utah History Encyclopedia, 1994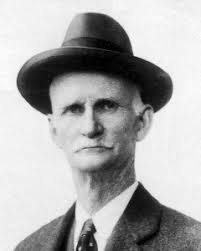 The business known as the Browning Arms Company was officially organized in Ogden, Utah, under that name in 1927, a year after its most famous namesake, John Moses Browning, died. In actuality, the Browning organization had been around as early as Jonathan Browning's arrival in Utah and the establishment of his gun shop in Ogden in 1852. With the death of Jonathan, his son John Moses Browning became the head of the family's gunsmithing business, and with his brothers – Matthew, Jonathan Edmund, Thomas Samuel, William, and George – established in 1872 the Browning Brothers Company with its shop and retail store in Ogden.
John Moses Browning has been called "the greatest firearms inventor the world has ever known." His first patent was granted on 7 October 1879. He is credited with 128 gun patents, and some fifty million sports and military weapons were manufactured from those patents during the forty-seven years he was an active inventor. Among his most famous gun produced were the 45-caliber pistol; the 1895 Colt Peacemaker machine gun; the Browning automatic rifle; a variety of 30- and 50- caliber machine guns used in World War II; and the Browning Automatic-5 shotgun first made in 1902 and still produced today.
Browning Brothers manufactured guns in Ogden and produced 600 Browning single-shot rifles before the company turned over the patent to the Winchester Arms Company. From that time on, the company contracted with other arms manufacturing companies to produce its weapons. These companies included, in addition to Winchester Arms, the Colt Arms Manufacturing Company, the Fabrique Nationale of Belgium, the Remington Arms Company, and Savage Arms Company. All used numerous Browning patents, and it is not generally known that many of the guns produced by these companies were invented by John Browning.
In 1977 the Fabrique Nationale of Belgium purchased the Browning Company after a seventy-nine-year business association. The Browning Company still maintains its world headquarters in Mountain Green, Utah – located sixteen miles up the Weber River from the city of Ogden, where the Browning Museum at Ogden Union Station can be found. The company employs about 210 people at its Utah headquarters, which also includes research and some light manufacturing operations. Manufacturing is done in various factories in Belgium, Portugal, Italy, Japan, and Utah. Its sporting catalogs include rifles, shotguns, pistols, knives, fishing rods and reels, outdoor clothing, and golf equipment. In 1989 the company's sales volume in North America alone was in excess of one hundred million dollars.
See: Curt Gentry, John M. Browning: American Gunmaker (1964); Richard C. Roberts and Richard W. Sadler, "Browning Company" in Ogden: Junction City (1985).