Stanford J. Layton
Utah History Encyclopedia, 1994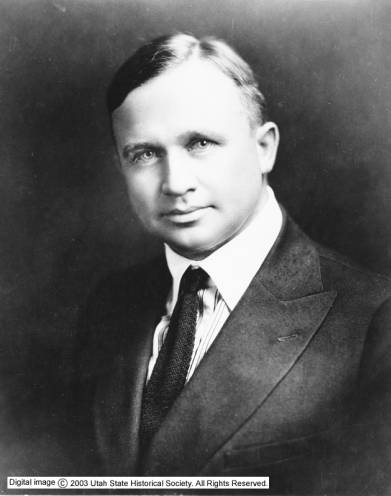 Charles Rendell Mabey was elected Utah's fifth state governor in 1920. His earlier political experience included service as the mayor of Bountiful and two terms in the state legislature.
Born into a large family in Bountiful, Utah, in 1877, Mabey was raised in an austere but secure environment. He received his education in the public schools, then graduated from the University of Utah in 1896. He taught school until the outbreak of the Spanish-American War, at which time he enlisted as a private in the Utah National Guard. He saw action in the Philippines and was later cited for gallantry. After the war he again taught school and also served a three-year LDS Church mission to Germany. In 1906 he left education and turned to banking, which career he pursued through the 1910s except for a year and a half during World War I when he was commissioned a captain in the Utah National Guard and was stationed at Fort Sill, Oklahoma, as an artillery instructor. He married Afton Rampton in 1905, and they raised four sons.
Mabey, a Republican, campaigned for governor in 1920 on the promise of economy and efficiency in state government, and he defeated his Democratic opponent, T.N. Taylor, by a large margin. As governor he sought and achieved a reorganization of the state's administrative structure that resulted in significant cost reductions. He was equally aggressive and successful in pushing for increased appropriations for education and highways. He was also an early advocate of promoting the state's tourist industry.
Priding himself as a man of principal, Charles Mabey was perhaps too uncompromising to be perfectly at home in the political arena. Unwilling to accommodate the demands of a well-organized clique of Republican party leaders, Mabey approached the 1924 reelection campaign without strong party support.
Additionally, national economic trends conspired against him; most of his governorship was characterized by a depression in farming and mining, two of Utah's primary industries. Although he viewed himself as the champion of economy in government, Mabey actually promoted a significant increase in state appropriations. Voters, having to pay those additional taxes with deflated dollars, were cool toward the governor's rhetoric by 1924. Following a lackluster campaign by both candidates, Mabey lost his bid for reelection to Democrat George Dern in a general election otherwise characterized by great Republican success throughout the state.
Following his exit from politics, Charles Mabey returned to banking, forming and heading the Builders Finance Corporation. He remained active in church and civic affairs until his death in 1959.
See: Charles Rendell Mabey, Our Father's House: Joseph Mabey Family History (1947)