Adapted from:  Sillitoe, Linda. A History of Salt Lake County. Salt Lake City: Utah State Historical Society, 1996; "Historic Copperton." Utah Humanities. https://www.utahhumanities.org/stories/items/show/232. Accessed April 23, 2020; "Company Town Had Unique Place in Mining History." Deseret News. https://www.deseret.com/1988/10/2/18780133/company-town-had-unique-place-in-mining-history. Accessed April 23, 2020;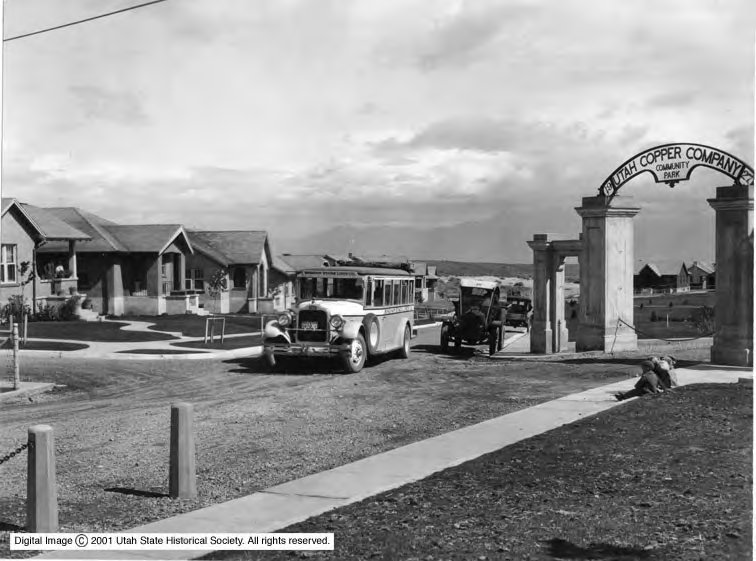 Copperton began as a mining town, but its origins are unlike those of most mining towns. Rather than a wild popup of saloons and boarding houses, Copperton was to be different. The Utah Copper Company (UCC) started the town in 1926 with eighteen homes. Although the homes were based on a common floor plan, they were not identical in construction, as the architects rotated plans and changed the exterior. The houses showed off the copper production of the mine, with copper being worked into the plumbing, exterior, and in some cases the roof or buildings.
The idea in the creation of the town was to ensure workers would arrive (on time) to work during harsh winter days. The town was gridded around the preexisting baseball diamond. To live in Copperton, an employee had to be a good, married family man, as well as a good employee. The waiting lists were long, and more homes were added every year from 1926-1930. Even without new homes being added during the Depression, Copperton was a desirable place to live. Rather than fire workers, UCC cut hours and wages, and miners only paid rent on the days that they worked.
Copperton, being a mining town, was very diverse, with workers from all over, including Italy, Russia, and Greece. This has continued into recent times, with five hundred Vietnamese Catholics worshipping in the Catholic Church in Copperton. In 1958, the town transitioned from a company, to private ownership. While other mining towns near Bingham Canyon were demolished, Copperton, along with its original homes, still survive. The town was added to the National Historic Register in 1986. The population today is just under 600.