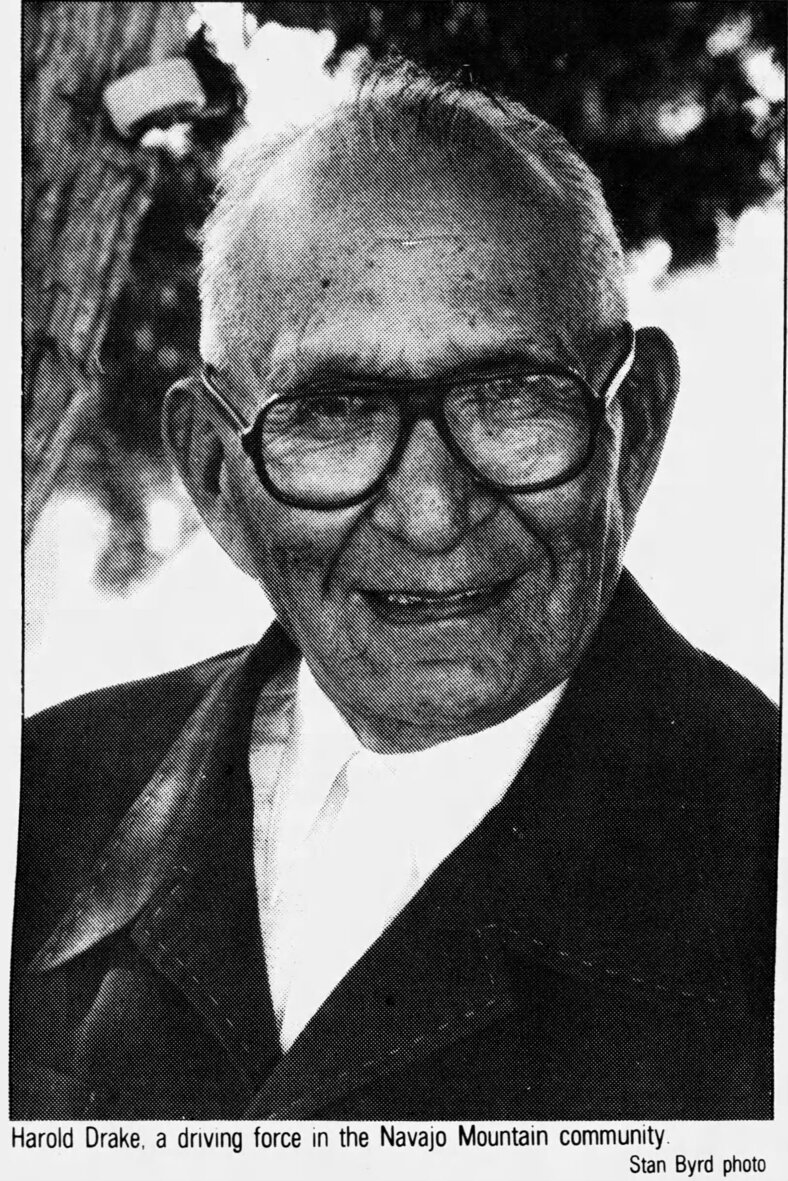 He was a preacher, teacher, and leader in the Navajo Nation.
Harold Drake, Sr., was born Christmas Day 1922 in Paiute Canyon, 20 miles southeast of Navajo Mountain, a large laccolithic dome that straddles the Utah/Arizona border on the Navajo Indian Reservation. Four days after Christmas, medicine man Richard Drake carried his premature son out of the hogan to give him a blessing. He chanted the "born to travel" prayer for the future from the Blessingway Healing Ceremony. In this early morning ritual the boy was dedicated to become an athlete and leader.
Drake's education began in 1930 when police officer Jim Malonie took him from his family while they were attending a squaw dance and escorted him to Tuba City Boarding School. Dormitory assistants cut off Drake's Navajo bun and threw it in a wastepaper basket. He was given new clothes and an American name.
Drake graduated from Tuba City Vocational High School in 1945. He stayed on at the boarding school another year working as a dormitory aide. From there he went to Cook's Christian Training School in Phoenix where he studied to become a Christian leader. He then attended Dubuque Theological Seminary in Dubuque, Iowa, for two years.
When Drake returned to Navajo Mountain he taught Sunday School and held weekly camp meetings at Navajo Mountain, Shonto, Inscription House, Kaibito, Kayenta, and Tuba City, Arizona. He also taped a weekly radio program, The Church in Your Hogan, broadcast from Flagstaff.
Drake and his first wife, Helen, had three children—Beverly, Loretta, and Esther—and a stepson, Elroy Navajo Drake. By his marriage to Stella Begay he had four children—Harold Jr., Mildred, Maybelle, and Cassandra—and two stepchildren, Jefferson L. Begay and Annie Marie Peterson.
Drake's career in public service began in 1955 when he was president of the Kayenta Chapter House. In 1959 he was elected to the Navajo Tribal Council by the Navajo Mountain community, a position he held for twenty years under three tribal administrations. He chaired the Advisory, Budget and Finance, Manpower Relocation, and Transportation and Road committees, and the Tribal Utility Board. He was appointed in 1959 by Governor Clyde to the newly created Utah Council of Indian Affairs and served a four-year term. He also served many years as president of the Navajo Mountain Chapter.
After leaving the Tribal Council, Drake was hired as a culture teacher at Shonto Boarding School. From 1984 to 1987 he worked as a recreation aide at the newly constructed Navajo Mountain Boarding School. He was a member of the Shonto, Tuba City, and Navajo Mountain school boards.
Navajo leaders are expected to improve the life quality in their community. By this definition Drake was a leader. He initiated the construction of a water line that brought spring water from Navajo Mountain to the community below. A new Bureau of Indian Affairs boarding school was built in 1984 partly through his efforts. He also championed road construction and the construction of an outpatient clinic and a landing strip at Navajo Mountain.
Drake's influence reached beyond the shadows of Navajo Mountain. He helped develop a water source for the Monument Valley Hospital, and while chairman of the Utah Navajo Development Council board of directors encouraged the development of health, education, community service, and natural resources throughout the Utah portion of the Navajo Reservation.
In 1986 Drake received the Yoneo Ono Award given by the Rural Community Assistance Corporation for his leadership and persistence in improving living conditions at Navajo Mountain. He was the first Navajo to receive the award.
Electric lights, improved roads, housing, a new school, indoor plumbing, a clinic, and an improved water supply were part of the legacy Harold Drake left Navajo Mountain. He committed his life to making his community a better place to live.
Drake died January 19, 1991.