Adapted from: Johnson, Michael W., Robert E. Parson, and Daniel A. Stebbins. A History of Daggett County: A Modern Frontier. Salt Lake City: Utah State Historical Society, 1998; "Dutch John — a Utah town fishing for a future." Salt Lake Tribune. https://archive.sltrib.com/article.php?id=57729355&itype=cmsid. Accessed April 24, 2020; "Dutch John, Utah." https://dutchjohnresort.com/dutch-john/. Accessed April 24, 2020.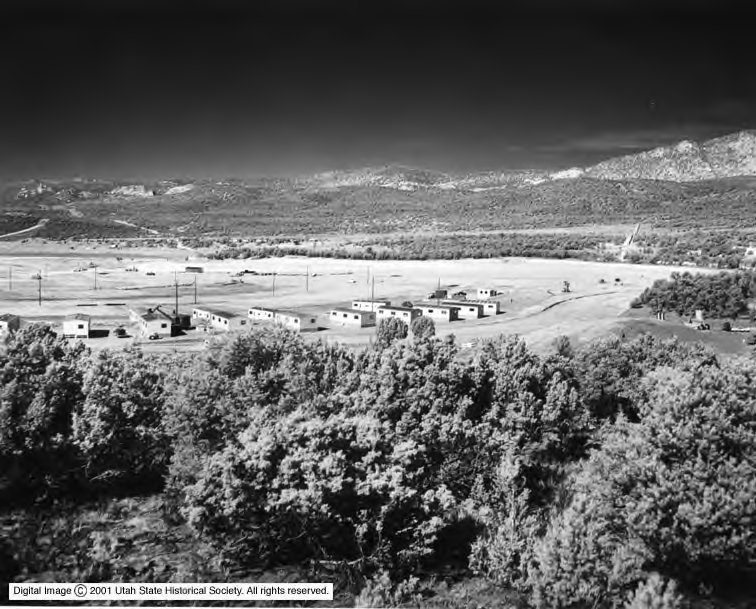 The town of Dutch John is named after an early resident, John Honselena (apparently often mispronounced "Hunslinger"). Honselena was a horse trader who supplied emigrants and the railroad with horses in the 1860s. People called him Dutch John because of his thick accent, even though he was actually German, not Dutch. The range where he kept his horses came to be known as "Dutch John" as well.
The origins of the town of Dutch John begin almost one hundred years later, when the United States Government began construction on the Flaming Gorge Dam in 1958. The government needed a place to house the project workers, and built a temporary town on Dutch John Flat. It moved in some transit houses, trailers, and built a few buildings to house the workers. Residential services such as a hospital, fire station, and post office were also initially set up in trailers, though these were housed in more permanent buildings as the town became more settled in the early 1960s. At its peak, the town housed around 3,500 residents, and had semblances of a permanent town, including an elementary school.
When construction of the dam was completed, most of the residents moved out, and the town was used as a government housing site for employees of the Forest Service and the Bureau of Reclamation. Following the conservative shift of the Reagan years, the government decided that subsidized government housing was unwarranted, and plans were made to privatize the town. Senators Bob Bennett and Orrin Hatch sponsored a program where the federal government would phase out government support for the area over a period of fifteen years, which provided them with annual funding for community expenses and some land near the site to use as a tax base for future revenue. That program ended in 2013, and after weighing several options, the town opted for incorporation, which was approved in 2015.
Today, Dutch John is a small town, with the population fluctuating between 150 in the winter to 250 in the summer as temporary residents come to fly-fish the Green River or see the dam.
See: Clint Pumphrey, "Daggett County at 100: New Approaches to a Colorful Past," Utah Historical Quarterly 86, no. 1, 2018,