Adapted from: Bishop, M. Guy. A History of Sevier County. Salt Lake City: Utah State Historical Society, 1997; Hansen, Ken Cregg. "'Up the Ditch." The History of Elsinore, Utah, 1874-1977. M.A. Thesis, Utah State University, Logan, Utah. https://digitalcommons.usu.edu/cgi/viewcontent.cgi?article=3103&context=etd. Accessed April 25, 2020.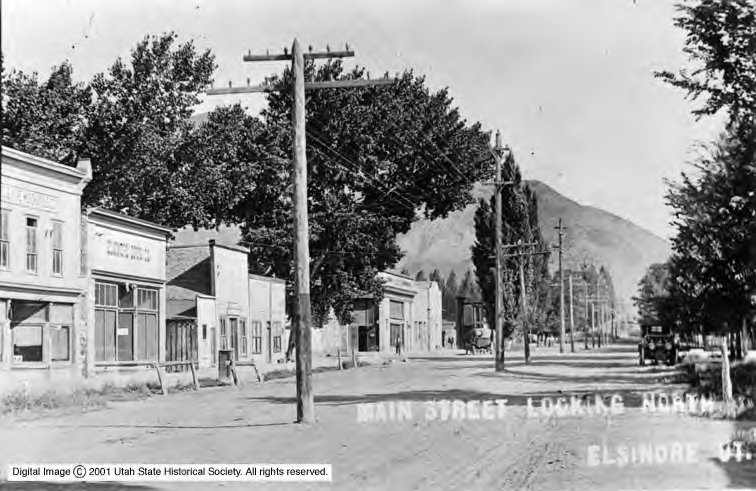 Elsinore was settled in the year 1874 by several Scandinavian Latter-day Saints from Richfield, who thought it would be advantageous to live closer to their farming fields. The would-be settlers asked for permission from the Sevier Stake President, Joseph Young to settle the area, separate from the United Order that existed at this time in Richfield. At the settlers' request, President Young suggested they name the town Elsinore, after the town in Denmark (known as Helsingør in Danish), and the Scandinavian Saints readily agreed.
The town grew steadily, and the settlers struggled to make the land more arable. The settlers began work on the construction of a canal in 1875 to irrigate the land. This proved difficult at first, as the soil would settle and sink as it became saturated. This led to initial irrigation problems, as well as other unforeseen problems, such as coffins rising to the surface of the graveyard after a rainstorm. The settlers eventually established a successful foundation for agriculture that would prosper in the settlement for years to come.
While Brigham Young encouraged foreign Saints to assimilate into the local culture—retaining local heritage was seen as divisive to the vision of a united Zion—Elsinore mainly attracted Scandinavian settlers to the area. The area was known as "Little Denmark," and the population was as much as ninety-two percent of the 223 residents were of Danish or Swedish origin in 1880. Church meetings were held in Danish into the first half of the twentieth century.
Elsinore, like most Utah towns, was reliant on agriculture for the majority of its history, growing wheat in the early years, adding sugar beet cultivation briefly at the turn of the century, as well as ranching, dairy production, and sheep for wool manufacturing. Elsinore residents were also major suppliers for a short-lived gold rush in nearby Kimberly.
The area had already seen a minor decline in population in the 1920s, and the Depression of the thirties hit the area hard, like many other agricultural areas. The area continued to struggle through the 1950s and 60s, and a series of fires in the mid-fifties destroyed businesses in the already struggling town . In the 1970s, however, the town began to see some growth as a bedroom community for work in other areas. Today, the population is around 880, up from 608 in 1990.