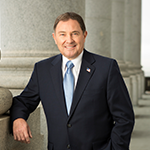 Gary Richard Herbert is Utah's seventeenth governor. Prior to becoming governor, he served as Lieutenant Governor under Governor Jon M. Huntsman, Jr. for nearly five years, before taking the Oath of Office on Aug. 11, 2009.
Governor Herbert was born in American Fork, Utah, and raised in Orem, Utah. After graduating from Orem High School, Mr. Herbert served a two-year mission for The Church of Jesus Christ of Latter-day Saints in the Eastern Atlantic States Mission.
While attending BYU, the Governor met and married Jeanette Snelson, from Springville, Utah. Shortly after their marriage, the Governor joined the Utah National Guard and served for six years as a staff sergeant working with target acquisition, artillery, and ground survey.
After his military service, Governor Herbert began a career in the real estate industry, founding Herbert & Associates Realtors, an Orem-based brokerage firm. He and Jeanettealso began a child-care service, The Kids Connection, which they operated for 23 years.
In 1990, the Governor was appointed to the Utah County Commission. Soon thereafter, he was elected to the body, in which he served for 14 years. During his time as county commissioner, he served as presidents of the Utah Association of Counties and the Utah Association of Realtors, and as a board member of the Provo Orem Chamber of Commerce and Utah Water Conservancy District.
The Governor currently sits on the National Governors Association Health and Human Services standing committee, the Healthcare Reform Task Force, and the newly created Homeland Security Special Committee.
In his inaugural address, Governor Herbert outlined his three main priorities of economic development, public and higher education, and energy development.
Governor and Mrs. Herbert have six children and 10 grandchildren.
Governor Herbert was born on May 7, 1947.