Miriam B. Murphy
Utah History Encyclopedia, 1994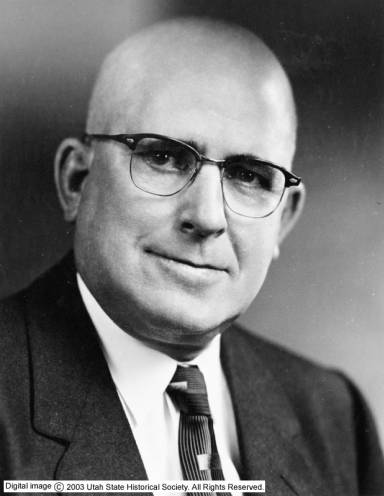 George Dewey Clyde was born in Mapleton, Utah, to Elanora Jane Johnson and Hyrum Smith Clyde, a farmer. He graduated from Springville High School, from Utah State Agricultural College with a bachelor's degree in agricultural engineering, and from the University of California, Berkeley, with master's degree in civil engineering. In 1919 he married Ora Packard, and they had five children. Clyde joined the Utah State faculty in the 1923 and was dean of engineering at the school from 1935 to 1945. From 1945 to 1953 he worked for the U.S. Soil Conservation Service. An expert on water, he became director of the Utah Water and Power Board in 1953 and helped to initiate the Flaming Gorge and Glen Canyon dams. When Governor J. Bracken Lee sought a third term in 1956, Clyde defeated him in the Republican primary with the help of a large crossover vote of Democrats opposed to Lee. Riding President Eisenhower's coattails, Clyde defeated Democrat L.C. Romney and Lee running as an independent.
Emphasizing economy, Clyde rejected six agency budgets in 1957, but he called for salary increases for teachers and state employees and for state building construction, including a new governor's residence. He revamped the state road commission, creating a more efficient and professional department to manage a large building program funded by federal grants. When a merit system bill was defeated, he extended merit coverage by executive order to a majority of state employees. Clyde blamed Democrats in control of the 1959 legislature for frustrating many of his goals and for passing only eleven of forty-three measures drafted by the Utah Legislative Council. An active Mormon, Clyde nevertheless vetoed a Sunday closing bill, in part because of minority rights, and was criticized by the Deseret News. Clyde won the 1960 GOP primary against Lamont B. Gunderson, chairman of the Salt Lake County Commission, and went on to defeat William A. Barlocker, mayor of St. George.
During his second term, Clyde called for increased spending for health and welfare–including improved juvenile detention facilities, the completion of reclamation projects, more state building, and increases in funding for education. His measured response to a growing educational crisis disappointed educators, however. When a committee he had named to investigate school needs recommended a $6 million increase in spending, Clyde rejected the report; teachers then staged a two-day walkout and the National Education Association, for the first time in its history, voted sanctions against an entire state. A $46 million building bill vetoed by Clyde necessitated a special session that passed a similar bill but did not call for bonding, something the governor adamantly opposed.
Retiring from public office in 1965, Clyde worked as a consulting engineer. He suffered a debilitating stroke in 1971 and died at home the following year.