Jay M. Haymond
Utah History Encyclopedia, 1994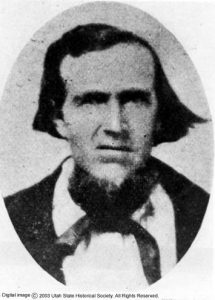 Jacob Hamblin was born 6 April 1819 in Ashtabula County, Ohio. His parents were farmers, and he learned farming as a youth. In 1836 his family moved to Wisconsin Territory and homesteaded at a place called Spring Prairie. Hamblin's father told Jacob when he was nineteen that he had been a faithful boy and that it was time for him to go into the world and do something for himself. Hamblin then traveled more than a hundred miles west and went to work in the Galena mines. After working for a few months, he barely escaped a rock fall that killed his co-worker. The incident gave him an aversion to mining, and he never returned to the mines. Collecting his wages, he returned to Wisconsin and paid for the land he had helped homestead.
In the autumn of 1839 he married Lucinda Taylor and settled down to start a family. However, in February 1842 he heard that Mormon elders were preaching nearby. After listening to the Mormon preaching, he joined the Mormon church on 3 March 1842. Hamblin started missionary work almost immediately and became known as a faith healer, showing the signs of "those that believe," in his words. The next year he moved to Nauvoo, Illinois, where the Mormon church headquarters were located.
Anti-Mormon sentiment was building and Hamblin and his family received their share. At that time he met and married Rachel Judd as his second (that is, plural) wife. His families moved west with the Mormons. He settled in Tooele Valley and became acquainted with local Indians who knew him as a friend. In 1854 Hamblin was called as a missionary to the Indians in southern Utah.
Again, he became known for his influence with Native Americans because of his integrity and his willingness to be friends with them. He had many spiritual experiences that caused the Indians to consider him invested with godly powers. After serving in his Indian mission for more than a year, Hamblin moved his family from Tooele to what is now Santa Clara. He then became president of the southern Utah Indian mission.
In the fall of 1857 Hamblin went north to confer with Brigham Young in Salt Lake City. On the way he encountered the Fancher Party of emigrants, California bound from Arkansas and Missouri. They asked him about the road and places to camp. He directed them to Mountain Meadows on the old Spanish Trail, about three miles from his home. He later expressed horror and repugnance at news of the massacre of the Fancher Party at Mountain Meadows. His wife Rachel helped care for the massacre survivors at the ranch.
Hamblin continued to serve as a missionary to the Native American tribes in the Southern Utah area. Following enactment of the Edmunds Act of 1882, an arrest order was issued naming Hamblin and others known to practice polygamy. Hamblin moved his families from Utah into Arizona and New Mexico and some even moved into Chihuahua, Mexico. Until his death on 31 August 1886, Hamblin was usually moving from one family to another to evade federal officers and see to the needs of his widespread family. He had four wives: Lucinda Taylor (married April 1839, separated February 1849); Rachel Judd (married 30 September 1849); Sarah Priscilla Leavitt (married September 1857); Louisa Boneli (married 16 November 1865). He fathered twenty-four children and had several adopted children. His lasting legacy was as a missionary and friend to the Native Americans, helping smooth relations between them and the more recent arrivals to the land.
See: Paul Dayton Bailey, Jacob Hamblin, Buckskin Apostle (1961); Juanita Brooks, Jacob Hamblin: Mormon Apostle to the Indians (1980); and Pearson Harris Corbett, Jacob Hamblin: The Peacemaker (1952).