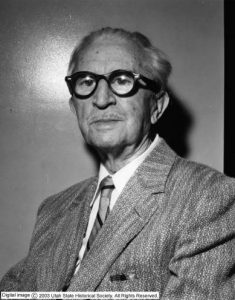 He became one of the most famous lyricists of the Broadway stage.
Music came into Otto Harbach's life at an early age. One of his first memories was of his mother's singing. Later, when his brothers started a small orchestra, he learned to play his father's violin and joined them.
He was born in Salt Lake City on August 18, 1873, to Danish immigrant parents Adolph Hauerbach and Sena Olsen. (As a young man Otto dropped the u and e from his surname to "simplify matters.")
He studied at the Salt Lake Collegiate Institute (Westminster College), where one of his classmates was the future actress Maude Adams. Encouraged by the institute principal to enroll in Knox College in Galesburg, Illinois, Harbach secured his train fare by agreeing to chaperone a shipment of sheep to Omaha. Following that adventure he had to throw away his suit because it had become "too sheepish," he said. His association with livestock was not over, however, for he tended farm animals to earn board and room.
After graduating from Knox in 1895 Harbach taught at Whitman College in Walla Walla, Washington, while earning a master's degree from Knox. In 1901 he moved to New York to attend Columbia University. He wanted to become a college English professor, but when eye problems interfered with the required heavy reading he began a career in advertising. He also started to write plays. "No honest effort is wasted," he said, recalling the eight years he spent working on a play that was never produced but which led to his first job: rewriting a play for a Broadway producer.
From 1907 through 1936 Harbach wrote some 40 musicals, including No! No! Nanette, Rose Marie, and Desert Song. He also wrote 7 plays without music, including the popular farce Up in Mabel's Room. Leading composers of the day—Rudolf Friml, Vincent Youmans, Jerome Kern, Sigmund Romberg, and others—set Harbach's lyrics to music. Among the more than [p.18] 1,000 song lyrics Harbach wrote, his personal favorite was "Smoke Gets in Your Eyes." Other very popular Harbach songs include "Cuddle Up a Little Closer," "Who," and the "Indian Love Call."
In 1918 Harbach married Eloise Smith Dougall of Salt Lake City. They had two sons, William and Robert.
Harbach was a charter member of the American Society of Composers, Authors, and Publishers (ASCAP) and also served a term as its president. ASCAP honored Harbach on his 80th birthday with a gala dinner and reception at the Waldorf-Astoria Hotel in New York. His home town of Salt Lake City, where he frequently came to visit relatives, honored him on October 23, 1957, with a special program that included selections from his many works.
A person can write anywhere, Harbach told Utah author Olive W. Burt in a 1949 interview, "but only in New York can you . . . sense the trends, know the acting fraternity, meet producers, make yourself known. . . . You . . . have to be tough, able to take disappointment and hardship and rebuffs and come back bouncing with ideas and energy. But it's worth it."
Harbach, whose enthusiasm and optimism seemed never to wane, kept abreast of changing tastes in musicals, especially the trend toward a more solid story line with music as an integral part of the plot. While others were grimly announcing that the heyday of musical comedy was past, Harbach saw new opportunities for playwrights and composers in the American public's changing tastes. He died January 24, 1963, at age 89.