Miriam B. Murphy
Utah History Encyclopedia, 1994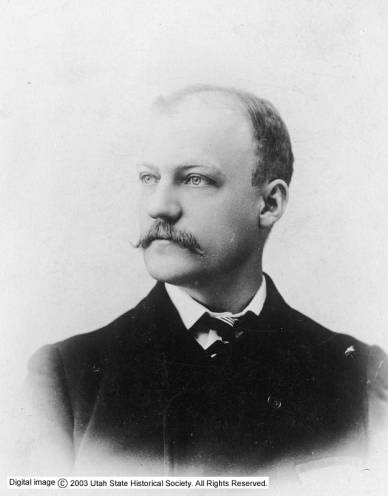 Heber Manning Wells was born in Salt Lake City to Martha G. Harris and Daniel H. Wells, a prominent civic and Mormon leader. He was educated in public schools and at the University of Deseret (Utah). In 1880 he married Mary Elizabeth Beatie, who died in 1888; in 1892 he married Theresa Clawson who died in 1897; in 1901 he married Emily Katz. He was the father of seven children.
Wells was a tax collector for Salt Lake City in 1877 and city recorder from 1882 to 1890. In 1892 he ran for mayor and lost to incumbent Robert N. Baskin. A delegate to the 1895 Constitutional Convention, he later won the Republican nomination for governor over party chair Charles Crane and former territorial governor Arthur L. Thomas. In a GOP sweep defeated former delegate to Congress Democrat John T. Caine. Wells and other state officials were elected to initial terms of five years and state elections aligned with the presidential race in 1900.
The first legislative session, authorized for ninety days, sent more than sixty bills to the governor, many dealing with the basic organization of state courts and offices, election reform (including the secret ballot), and codification of laws. Railroad regulation, urged by Wells, was rejected. In 1897 his ongoing concern over water led to the first state laws dealing with irrigation and water rights. He also approved creation of a Branch Normal School (present Southern Utah University). In 1899 he endorsed the first state-sponsored arts organization (present Utah Arts Council) and accepted federal acreage at Fort Douglas as a site for the University of Utah. In 1900 he appointed Emma J. McVicker as superintendent of public instruction, the first woman named to a high post in Utah state government.
Wells ran for reelection in 1900 and defeated Democrat James H. Moyle. Major legislation urged by Wells during his second term included bills establishing the School of Mines at the University of Utah and a State Bureau of Statistics, setting standards for dairy products and other foods, and accepting provisions of the federal Carey Act. On the advice of Gen. John Q. Cannon of the Utah National Guard, Wells ordered 300 guardsmen to Carbon County during the 1903-4 coal miners strike, a costly move that required the state to borrow money. Discouraged by party leaders from seeking a U.S. Senate seat, he tried for a third term as governor in 1904 but lost the nomination to John C. Cutler.
He managed Utah Savings and Trust Company for a few years, was elected to the Salt Lake City Commission in 1913, served during 1921 to 1933 as assistant treasurer and treasurer of the U.S. Shipping Board Fleet Corporation, and upon retirement wrote editorials for the Deseret News. He died in Salt Lake City of an apparent stroke in 1938.