Miriam B. Murphy
Utah History Encyclopedia, 1994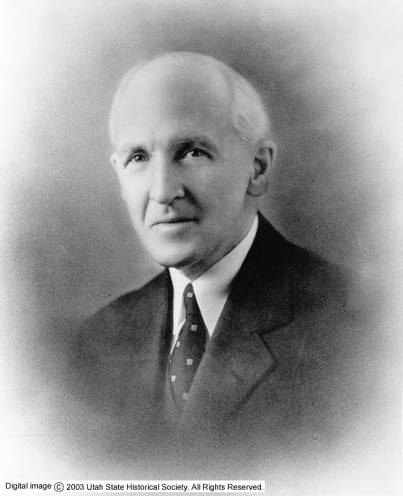 Henry Hooper Blood was a prominent businessman and seventh governor of the state of Utah. He was born in Kaysville, Utah, to William Hooper Blood, a farmer and city councilman, and Jane Wilkie Hooper. He attended local schools and Brigham Young Academy in Provo. He married Minnie Barnes in 1896 and they had four children. Before serving an LDS mission to England between 1901 and 1904, he served as Kaysville city recorder, Davis County treasurer, and minutes clerk of the Utah State Senate.
Blood was president of the LDS North Davis Stake for twenty-two years and also a member of the Davis County School Board. Manager of Kaysville Milling Co., he was also a director of several banks and other companies. Governor Simon Bamberger named him to the first Public Utilities Commission. Later, as chair of the State Road Commission, he oversaw one of the largest staffs and budgets in state government. Nominated by the Democrats to run for governor in 1932, Blood defeated Republican William W. Seegmiller, a former legislator.
When Blood took office in 1933, more than a third of the work force was unemployed and the percentage of Utahns on relief was among the highest in the nation, a situation exacerbated in 1934 by the worst drought in the state's history. The governor pushed for a sales tax – reluctantly set by the legislature at two percent – to qualify the state for federal funds, and got lending institutions to agree to a ninety-day moratorium on foreclosures in order to give families a chance to refinance their homes and farms. He lobbied intensively in Washington, and Utah ranked near the top in it portion of per capita federal spending during the Depression. The WPA, CCC, and other federal programs created jobs and helped build highways, public buildings, recreational facilities, and irrigation/reclamation works; the programs also sponsored arts and historical records projects.
A fiscal conservative, Blood vetoed many bills but approved the creation of a Department of Public Welfare and a system of state-owned liquor stores. Endorsed by Franklin D. Roosevelt, he won renomination in 1936 despite a strong challenge from liberal Democrats led by Herbert B. Maw. He defeated Republican Ray E. Dillman, former state senate president, and Ogden Mayor Harman W. Peery, an Independent-Progressive.
Blood approved many bills passed by the 1937 legislature but warned about the future cost of retirement funds, the governor's mansion, vocational and adult education programs, and a junior college in Price (now the College of Eastern Utah). He also signed a direct primary election law. By 1939 he was even more cost conscious and vetoed proposals for junior colleges in Richfield and Roosevelt, as well as low-cost housing and slum clearance, medical and dental cooperatives, and a miner's hospital addition to the Ogden sanatorium. He sought amendments to the state constitution to make the judiciary nonpartisan, promoted tourism, and worked to improve Utah's terrible highway safety record.
In January 1941 Blood accepted a call to serve as a mission president in California for the LDS Church. He died in Salt Lake City in 1942 following a short illness.