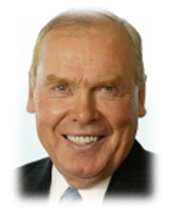 Jon M. Huntsman, Sr.is Founder and Executive Chairman of Huntsman Corporation, a global manufacturer and marketer of specialty chemicals.
Forty years ago, Mr. Huntsman began a small entrepreneurial plastics packaging business. Originally known for pioneering innovations in packaging and, later, for rapid and integrated growth in petrochemicals, its operating companies today manufacture chemical products used in a wide range of industries, with more than 16,000 employees and multiple locations worldwide. The Company's 2015 revenues exceeded $15 billion.
Mr. Huntsman earned his undergraduate degree at The Wharton School of Business at the University of Pennsylvania and an MBA from the University of Southern California. He has been awarded thirteen honorary doctorate degrees.
Mr. Huntsman was a U. S. Naval Gunnery Officer. He served under President Richard M. Nixon as Special Assistant to the President and as White House Staff Secretary.
Jon Huntsman, characterized by Elite Traveler magazine as a "folksy patriarch" and "a cross between Mark Twain and Warren Buffet," authored a book on corporate ethics entitled, Winners Never Cheat: Everyday Values We Learned as Children (But May Have Forgotten). The second edition is entitled Winners Never Cheat: Even in Difficult Times and made the Wall Street Journal's best sellers list. His autobiography, Barefoot to Billionaire: Reflections on a Life's Work and a Promise to Cure Cancer, was released in October 2014 to extensive acclaim.
Mr. Huntsman is widely recognized as one of America's foremost concerned citizens and philanthropists. Elite Traveler described him as a cross between Mark Twain and Warren Buffet. His lifetime humanitarian giving, including contributions to the homeless, the ill and the under-privileged, exceeds $1.5 billion. He has assisted thousands, both domestically and internationally.
He was named One of the Ten Most Influential Utahns in the 20th Century in 2000.
He was a member of the American Red Cross Board of Governors from 1997-2005 and from March through October, 2013. He also serves on the board of the Beaumont Foundation.
The Chronicle of Philanthropy placed Mr. Huntsman second on their 2007 list of largest donors. In 2011, Forbes Magazine counted him among the 18 "most generous givers on the planet."
Mr. Huntsman and his wife, Karen, founded the Huntsman Cancer Institute (HCI) in 1995 to accelerate the work of curing cancer through human genetics. Mr. Huntsman's early contributions to Huntsman Cancer Institute amounted to $225 million. The Institute is now one of America's major cancer centers dedicated to finding a cure. The combined facility features leading-edge research laboratories and a state-of-the-art hospital treating cancer patients. The recently announced $100 million expansion will double the laboratory space and create the Primary Children's and Families' Cancer Research Center, which will focus exclusively on inherited and childhood cancers. Today, approximately $1.5 billion has been directed to the building of HCI, almost half of which was donated by the Huntsman family.
Mr. Huntsman has served in senior leadership positions in The Church of Jesus Christ of Latter-day Saints for the past fifty years. His latest assignment was service as a member of the Seventies Quorum.
Jon and Karen Huntsman are the parents of nine children. They have 56 grandchildren and 14 great-grandchildren.
Mr. Huntsman was born in 1937.