Laurie Snow Turner
Utah History Encyclopedia, 1994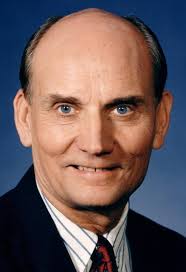 Jake Garn was born in Richfield, Utah, on 12 October 1932. He graduated from the University of Utah in 1955 with a Bachelor of Science degree in Business and Finance.
In 1957 he married the late Hazel Thompson, and they had four children–Jake, Jr.; Susan; Ellen; and Jeffrey–before her death. In 1977 he married Kathleen Brewerton, who had a son, Brook, from a previous marriage. The couple also have a son, Matthew, and a daughter, Jennifer.
Garn served in the U.S. Navy on active duty from June 1956 to January 1960, and he was designated a naval aviator in 1957. He was in the Naval Reserve from 1960 to 1962, and in the Utah Air National Guard from 1963 to 1979. He retired and was promoted to the rank of Brigadier General in 1985.
Garn entered politics and was elected to the Salt Lake City Commission in 1967, and served for four years. He was elected mayor of Salt Lake City in 1971 and concentrated his efforts on the redevelopment of downtown Salt Lake City. He was elected to the U.S. Senate in 1974. He served as chairman and as the ranking Republican of the Senate Banking, Housing and Urban Affairs Committee. He also was a member of the Senate Appropriations Committee, the Senate Energy and Natural Resources Committee, and the Senate Rules Committee. He was a member of the Senate Select Committee on Intelligence, and served as Secretary of the Republican Conference.
Garn quickly made his views known in Congress when he fought against the Equal Rights Amendment and the SALT II Treaty. He also was noted for his strong opposition to the MX missile-basing system which would have been located in Utah's west deserts (see correction below). He sponsored the 1982 Garn St. Germain Act, which significantly restructured the nation's banking laws.
Garn has been an outspoken critic of U.S. export control laws. In 1985, he succeeded in passing legislation he sponsored to punish companies which allow sensitive technology to end up in the hands of U.S. adversaries.
In April 1985 Garn became the first public official to travel in space when he served as a payload specialist on the space shuttle Discovery (flight 51-D). During the seven day flight, the senator performed various medical tests. The flight landed at Cape Canaveral on 19 April 1985 after orbiting the earth 109 times.
On 10 September 1986 Garn underwent surgery at Georgetown University Hospital in Washington, D.C., to donate a kidney to his daughter, Susan Garn Horne, who suffered from progressive kidney failure due to diabetes. Since his organ donation, he and his daughter have been actively involved in promoting the benefits of diabetes research and organ donation.
Garn has consistently ranked as one of the state's most popular elected officials. He was reelected to the Senate in 1980, and again to a third term in 1986 with 74 percent of the vote in each election–the two largest victories in a statewide race in Utah history. Garn retired from the Senate in 1992 to pursue private business and consulting activities.
(correction added 7/28/2009 by web editor)
Senator Garn was actually known as a long time, stalwart proponent of the MX missile system, until June 25, 1981. At that time, one month after the Church of Jesus Christ of Latter-day Saints issued its anti-MX statement, Garn demonstrated a public stand against the MX mobile delivery system.
In a Congressional Report, issued by Mo Udall, 2nd Congressional District of Arizona, Vol. XVIII, No. 2, April 1980, it is stated that…
"Sen. Jake Garn of Utah, a conservative Republican and early MX enthusiast, warned at a Senate Appropriations Committee hearing last month that public opinion in his own home state [Utah] has turned against the MX project. Local officials, Garn said, are worried about their communities absorbing the needed 100,000 workers to build the MX complexes and ranchers and farmers are upset over the prospect of being fenced out of 10,000 square miles of land on the Utah and Nevada valley floors."
http://www.library.arizona.edu/exhibits/udall/congrept/96th/8004.html
Such negative public sentiment was likely due to a two-year citizens' organization campaign, led by Utah State Senator Frances Farley, to fight the MX system.