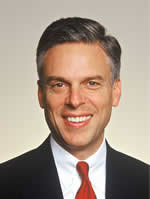 Governor Jon Huntsman, Jr. is a lifelong Utahn. He has helped manage his family's company, served as president of the Huntsman Cancer Institute, and served on the boards of other large companies. He has also worked in government, as a White House staff assistant, deputy assistant Secretary of Commerce, U.S. ambassador to Singapore, and U.S. trade ambassador. He has worked politically for the Republican Party and served on the boards of many community organizations.
Governor Huntsman's campaign focused heavily on economic development for Utah. He was also focused on making the government more efficient. He said, "We want to assemble the most effective and efficient Government, driven by the best team possible, recognizing that the citizens are our customers."
Governor Huntsman is married to Mary Kaye Cooper, and they have six children.
Governor Huntsman was born in 1960.