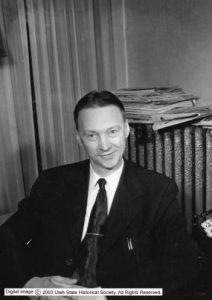 This journalist survived shipwreck and imprisonment to become a priest.
Twice a Japanese prisoner during World War II, nearly drowned in the Pacific when his ship was sunk, an innovative and energetic newspaperman, recipient of a Nieman Fellowship to Harvard and a Pulitzer Prize nomination, William H. McDougall found enough adventure and achievement in life to satisfy almost anyone. Yet he always claimed that his greatest adventure began on May 11, 1952, when he was ordained to the Catholic priesthood in Salt Lake City by Bishop Duane G. Hunt.
He was a home-grown product of Utah. Born in Salt Lake City on June 3, 1909, to Frances M. Tormey and William H. McDougall, Sr., he earned a B.A. from the University of Portland and knocked about in various jobs as a miner, salesman, hunting and fishing guide, and railroad roundhouse clerk before discovering his lifelong calling as a journalist. During the five years he worked for the Salt Lake Telegram he became known for his aggressive pursuit of news and for community improvement crusades, during which he uncovered a marijuana ring in public schools, fought unsafe traffic conditions, and promoted improvement of city parks.
One of McDougall's specialties was coverage of remote stories such as the Mexican Hat range killings in 1935 and airplane crashes in the mountains. Anticipating today's live electronic coverage of such events, he trained carrier pigeons which he used to file on-the-spot reports and photographs.
In 1939 the United Press sent McDougall to Shanghai, China, as a war correspondent. Always hoping to get the latest story, he delayed too long when the Japanese invaded China and was taken prisoner. Chinese friends helped him escape to Java where he continued to file stories until it, too, fell. He escaped on an ill-fated Dutch ship that was sunk in the Indian Ocean. Only three lifeboats had been launched for the 240 passengers and crew, and McDougall found himself in the water with only a life jacket. A strong swimmer, he reached one of the overloaded lifeboats but was refused admittance.
For hours he drifted. In his desperation he turned to the Catholic faith of his youth and learned for the first time, he later reported, what prayer really is. As he drifted and prayed, he resolved to "do something for Jesus." Eventually one of the other lifeboats rescued him. Prison camp awaited him when the boat reached Sumatra, but he survived what then appeared as a lesser ordeal and returned home after the war. He wrote two books detailing his wartime experiences: Six Bells Off Java (1948) and By Eastern Windows (1949).
After a year as a Nieman Fellow at Harvard, where he studied with the likes of Bernard DeVoto, McDougall entered a seminary in Washington, D.C., to prepare for the priesthood. He served energetically as rector of the Cathedral of the Madeleine in Salt Lake City for 21 years and became known for his advocacy of the rights of the poor, the unborn, and the homeless.
Ever a journalist, he was editor of the Intermountain Catholic Register during 1980-81 and wrote a column of news tidbits from local parishes. Pope John XXIII recognized his years of service to church and community by elevating him to monsignor in 1963.
He died on December 8, 1988, remembered by retired Bishop Federal as a man whose "rule of life was that nothing was too much trouble in loving one's neighbors."