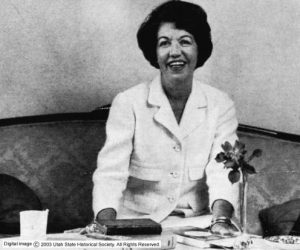 A graduate of Ogden High, she was a Pulitzer Prize winning poet.
Phyllis McGinley was born March 21, 1905, in Ontario, Oregon, the daughter of Daniel and Julia Kiesel McGinley. Her father was a land speculator and the family moved often, finally settling on farm land that her father could not sell in Cliff, Colorado. When Phyllis was 12 her father died and the family moved to Ogden to live with relatives. She attended Sacred Heart Academy and graduated from Ogden High School and the University of Utah. While at the U. she began to write seriously and entered a university competition offering cash prizes for the best poetry, short stories, and essays. She submitted entries under pseudonyms in all categories and twice won all the awards.
During this time she also began submitting poetry to magazines in New York. After selling some of her poems she decided to move to New York in 1929. McGinley held an assortment of jobs there, including copywriter for an advertising agency, teacher in a junior high school in New Rochelle, and staff writer for Town and Country.
Marriage and stability were extremely important to her after a childhood of frequent moves and "never having a real home." In 1934 she met Charles L. Hayden who worked for the Bell Telephone Company during the day and played jazz piano in the evening. She found the fact that he played in a jazz band unsettling, fearing that domestic life would not be his main concern; however they eventually married on June 25, 1937, and had two daughters.
Noted for her light, whimsical verse, McGinley had, early in her career, been given some advice by Katherine White, a New York fiction editor: "Dear Miss McGinley: We are buying your poem, but why do you sing the same sad songs all lady poets sing?" She changed her style to light verse.
McGinley's prose and verse appeared in many publications. Her first book of verse was published in 1934, followed by seventeen more books. She received the Pulitzer Prize for her book of light verse Times Three: Selected Verse from Three Decades with Seventy New Poems (1960) in 1961.
The strength of Phyllis McGinley's appeal was her support of the housewife and the home at a time when many women were entering the job market. Her book Sixpence in Her Shoe (1964) was written as a direct response to Betty Friedan's best-selling book The Feminine Mystique (1963) which proposed the idea that intelligent educated women could never find true happiness by staying home. Sixpence stated an alternate philosophy, one that McGinley's own life had been based on, that educated women could fit happily into the framework of the home. Sixpence sold over 100,000 copies and remained on the best-seller list for several months.
She wrote of herself: "My eccentricities are few—putting sugar in my soup is the only one I can think of at the moment—and I am what is known to the trade as a 'good, reliable worker.' That is, I always make a deadline. I am not prolific, and labor painstakingly on every piece I do."
Her last book, Saint Watching, was published in 1969. After her husband died in 1972, she moved from her beloved suburbs to an apartment in New York City. She died February 22, 1978.