Lorille Horne Miller
Utah History Encyclopedia, 1994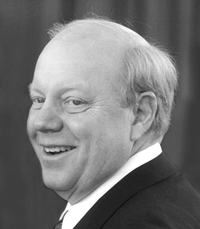 Lawrence H. Miller was born 26 April 1944 to Mary Lorille Horne and Howard Hanley West. His parents divorced in 1946, and in June 1948 his mother married Frank Soren Miller, who legally adopted Larry in September 1949. Larry attended Salt Lake City public schools, graduating from West High School in 1962. He married his high school sweetheart, Karen Gail Saxon, on 25 March 1965, and they have five children: Gregory Scott, Roger Lawrence, Stephen Frank, Karen Rebecca, and Bryan Joseph.
Following graduation from high school, Miller was employed in construction by his uncle William Reid Horne until 1964 when he went to work for American Auto Parts. Two interests, softball and drag racing, helped launch his careers in sports and automobiles. From 1963 to 1970 Miller raced cars, and from 1962 to 1985 he was an outstanding fast-pitch softball player, pitching in the Salt Lake City Metro League and the Denver Metro League.
In 1966 he became parts manager and later manager of the parts and service departments for a Utah auto dealer. In 1970 he moved to Denver to play softball and work as a parts manager for two Denver Toyota dealerships. In 1978 he was promoted to operations manager over five Toyota stores.
After nine years in the Denver area, the Millers returned to Salt Lake City when Larry formed a partnership with William Reid Horne to purchase a Toyota dealership in Murray. It opened on 1 May 1979 as Larry H. Miller Toyota. In October 1981 Miller bought out his uncle's share in the business. Throughout the 1980s and early 1990s he acquired a number of automobile dealerships in Utah, Colorado, Arizona, and New Mexico. In 1993 Automotive Age listed him as the fifteenth largest U.S. car dealer, with nineteen dealerships.
Larry H. Miller became a co-owner of the Utah Jazz professional basketball team when he purchased a half interest in the team on 11 April 1985 for $8 million. Just over a year later, in order to prevent the sale and subsequent move of the Utah Jazz to Minnesota, on 16 June 1986 he bought the remaining fifty-percent interest from Sam Battistone for $14 million.
Under Miller's leadership and his private financing, ground was broken on 22 May 1990 for a new $66 million arena. Named the Delta Center, the state-of-the-art arena was completed on budget and on schedule on 4 October 1991. His success in managing the Delta Center project led Salt Lake City Mayor Deedee Corradini to ask Larry to serve without pay as the building project manager for the new baseball field, the Franklin Quest Baseball Field, constructed between 1993 and 1994. Miller also purchased the Salt Lake Golden Eagles Hockey Team in September 1989 and television station KXIV, which he renamed KJZZ in 1993.
Miller has also been involved in a number of other civic activities, including underwriting the estimated $320,000 cost for the first two years of an exchange program for faculty, staff, and students between the Utah Valley Community College and the Kiev College of Hotel Management in Ukraine. He also has sponsored a world-class fast-pitch softball team since 1980. His public service has been recognized by numerous awards, including the Utah Minute Man Award from the Utah National Guard in 1990, an honorary Doctor of Law degree from the University of Utah in 1991, and the Tourist Achievement Award from the Salt Lake Convention and Visitors Bureau in 1992. Larry Miller's athletic achievement awards include induction into the International Softball Hall of Fame on 16 August 1992 and installation into the Utah Athletes' Association Hall of Fame in November 1992.
Postscript: Larry H. Miller died on February 20, 2009, from complications of Type II diabetes and calciphylaxis.