Larry K. Shepherd
Utah History Encyclopedia, 1994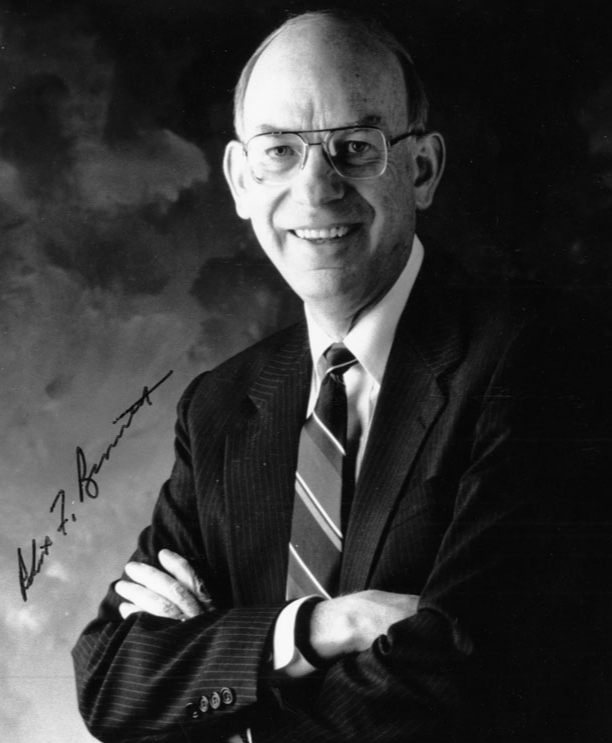 Robert F. Bennett was born 18 September 1933 in Salt Lake City, Utah, the youngest of five children of Wallace F. Bennett, the former four-term United States senator from Utah, and Frances Grant Bennett. He attended Salt Lake City's East High School and graduated from the University of Utah in 1957 with a degree in political science. There he participated in the Air Force ROTC program and served as student body president. In 1953-54 Bennett served as a missionary of the Church of Jesus Christ of Latter-day Saints in Scotland.
At age twenty-eight, Bennett managed his father's successful 1962 reelection campaign. That same year he married his long-time sweetheart, Joyce McKay. The Bennetts are the parents of six children. In 1962 Bennett served as press secretary for Representative Sherman P. Lloyd (R-Utah) and later served on an interim basis as his father's chief of staff.
Robert Bennett's other Washington experience included three years as the D.C. representative for the J. C. Penney Company and two years as chief congressional liaison at the U.S. Department of Transportation during the Nixon administration. There he earned the department's highest civilian award. From 1971 to 1974 he operated his own governmental relations firm.
Bennett left Washington, D.C., in 1974 and moved to California to join Summa Corporation as director of public relations and became vice-president of public affairs for Hughes Airwest. At the death of Howard Hughes, Bennett became president of Osmond Communications. In 1980 he became chairman of the board of American Computer Corporation. In 1981 Microsonics, a struggling public corporation producing educational audio materials, tapped the entrepreneurial skills of Bennett to serve as its president. Within eighteen months, he had helped the company reach the break-even point.
Bennett's most notable business success began in 1984 when he became chief executive office of the Franklin International Institute, Inc., a firm with only four full-time employees. When he left to become a candidate for the United States Senate, the corporation, now listed on the New York Stock Exchange and known as Franklin Quest, employed nearly 1,000 and had annual sales of over $90,000,000. Franklin Quest is known internationally for its day planners and time-management seminars.
While at Franklin, Bennett published his widely read book Gaining Control. In 1989 Bennett was named "Entrepreneur of the Year" for the Rocky Mountain region by Inc. magazine, and Franklin was recognized by the magazine as one of the nation's 500 fastest-growing companies.
Robert Bennett has had a distinguished career in public service. In 1988 the Utah State Board of Education appointed him chairman of the Education Strategic Planning Commission. Bennett has also served on other education-related committees in Utah: the Governor's Awards for Excellence Task Force, the Board of Trustees of the UEA Children at Risk Foundation, The Conference Office Advisory Board, the Governor's Advisory Council, and the Education Commission. Governor Norman Bangerter presented Bennett a 1989 Light of Learning Award for his outstanding contribution to public education in the state.
Bennett was elected to the U.S. Senate in 1992 after a close Republican primary victory over Geneva Steel president Joseph Cannon, and won the general election by a margin of 55 percent to 39 percent over former three-term U.S. Representative Wayne Owens.
Senator Bennett currently (1993) serves on the Senate Energy and Natural Resources Committee; the Senate Banking, Housing and Urban Affairs Committee; the Senate Small Business Committee: and the Joint Economic Committee. The senator also serves as a member of the National Republican Senatorial Committee.