Miriam B. Murphy
Utah History Encyclopedia, 1994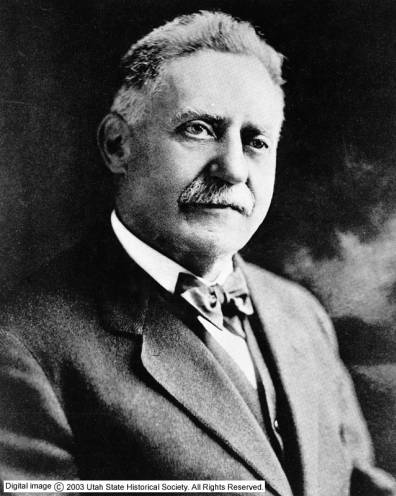 Simon Bamberger was the fourth governor of the state of Utah. Born in 1846 at Eberstadt, Hesse-Darmstadt, Germany, to Emanuel Bamberger and Helen Fleish, he emigrated to the United States at the age of fourteen. He manufactured clothing in St. Louis before coming to Utah, where he arrived sometime in the 1870s or 1880s. He ran two small hotels and then made a fortune by investing in the Centennial Eureka Mine in Juab County as well as in other Utah and Nevada mines. He built the Salt Lake and Ogden Railway as well as the Lagoon resort in Farmington.
In 1881 Bamberger married Ida Maas, and the couple had four children. He served on the Salt Lake City Board of Education from 1898 to 1903 and once donated money to help keep the schools open. Elected to the state senate in 1902, the only Democrat winning in Salt Lake County, he proposed several progressive measures during the 1903 and 1905 sessions and gained a reputation as somewhat of a wit. He was defeated in a state senate race in 1912. He planned to run for the U.S. Senate in 1916, but withdrew in favor of William H. King and sought the governor's seat instead. LDS Apostle Brigham H. Roberts made what many considered a brilliant speech nominating Bamberger and calling for an end to the selection of candidates on the basis of church affiliation. Bamberger defeated Alfred W. McCune, another wealthy mining man and a Mormon, on the second ballot of the primary election. An anti-Semitic circular depicting Bamberger with a large nose was denounced by most Utahns. Pledged to sign a prohibition bill, he easily defeated Prohibitionist Nephi L. Morris, running in this election as a Republican, becoming the second Jew elected to a U.S. governorship.
Having inherited a large deficit, the governor called for an audit that recovered a million dollars from various state agencies The Democrat-controlled legislature, with Bamberger's approval, passed such progressive legislation as creating a Public Utilities Commission and passing a Workmen's Compensation Act to be administered by a new State Industrial Commission, a Corrupt Practices Act, a Labor Organization Act, and a bill implementing the initiative and referendum process were also passed, and the governor also signed a statewide prohibition bill.
During World War I Bamberger supported the Liberty Bond drives, often traveling at his own expense to promote their sale. The 1919 legislature continued the progressive trend by passing a mine tax law advocated by Bamberger despite his own mine holdings. He also urged passage of a bond issue for road building and signed bills requiring compulsory high school attendance and establishing a state securities commission. In September 1919 he called a special session of the legislature to ratify the national women's suffrage amendment.
Bamberger declined to run for reelection in 1920 and returned to his business interests. He died in Salt Lake City in 1926 of an apparent heart attack.