Tricia Smith-Mansfield
Utah History Encyclopedia
The "This Is the Place" Monument is located at the mouth of Emigration Canyon in Salt Lake City, Utah. In 1937 a state commission comprised of representatives of various faiths selected Mahonri M. Young, a grandson of Brigham Young, to design the monument, which derives its name from the words Brigham Young is said to have pronounced in the foothills of Emigration Canyon: "This is the right place. Drive on."
The monument was dedicated during Utah's pioneer centennial celebration in 1947. The granite structure stands sixty feet high and eighty-six feet long. It memorializes, in bronze sculptures, the Mormon pioneers as well as the traders, trappers, explorers, and others who were instrumental in the development of the West. The figures atop the center pedestal are Brigham Young in the center, Heber C. Kimball to the north, and Wilford Woodruff to the south. The three were prominent leaders during the early days of the Mormon Church.
At the base of the center column are Orson Pratt and Erastus Snow, members of a scouting party and the first to enter the valley on 21 July 1847. To the sides are the nine horsemen who made up the exploring party.
The wagon of the first pioneer company is depicted in bas-relief sculpture
along the west side of the wings, with Brigham Young visible in Woodruff's carriage at the rear. Along the east side are high relief sculptures of six men who were significant figures in early regional history: Etienne Provost, Chief Washakie, Peter Skene Ogden, Captain Benjamin Bonneville, Father Jan DeSmet, and John C. Fremont.
The Mormon pioneers followed the same route blazed the previous year by the Donner-Reed party, depicted on the east side of the center pedestal.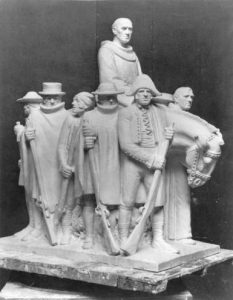 The figures on the south pedestal depict Spanish explorers who came into the area in 1776. The Dominguez-Escalante expedition came as far north as Utah Valley in an attempt to find a practical overland route to Monterey, California. Their account provided the first written description of the Intermountain region.
In the 1820s trappers and traders came to the American West to capitalize on the market for beaver pelts. These men, represented on the north column, were the first white men to see many of the mountains, rivers, lakes, and valleys of the West. William Ashley of the Rocky Mountain Fur Company is the figure sitting astride the horse.