John Sillito and Constance Lieber
Utah History Encyclopedia, 1994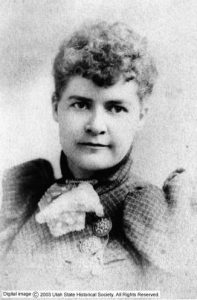 Martha Maria Hughes Cannon, noted physician and the first female state senator in the United States, was born 1 July 1857 near Llandudno, Wales, the second of three daughters born to Peter and Elizabeth Evans Hughes. The Hughes family, converts to The Church of Jesus Christ of Latter-day Saints, emigrated to the United States in March 1860. Peter Hughes died shortly after the family's arrival in the Salt Lake Valley in September 1861. A year later Elizabeth married James Patton Paul by whom she had five children.
"Mattie" was close to her stepfather and went by the surnames of both Paul and Hughes at different times in her life. From an early age Mattie desired to study medicine, and worked to that end as a schoolteacher and typesetter while attending the University of Deseret. After her graduation with a degree in chemistry in 1875, she attended the medical school at the University of Michigan from 1878 to 1881, and practiced medicine for a short time in Algonac, Michigan. In 1882 she earned a B.S. from the Auxiliary School of Medicine of the University of Pennsylvania, and received a diploma from the National School of Elocution and Oratory. After graduation Mattie returned to Salt Lake City where she was resident physician at the fledgling Deseret Hospital from 1882 to 1886.
Mattie married Angus M. Cannon, twenty-three years her senior, on 6 October 1884, becoming the fourth of his six plural wives. Three children were born to Angus and Mattie—Elizabeth Rachel in 1885; James Hughes in 1890; and Gwendolyn Hughes in 1899. In April 1886 Mattie and Elizabeth began a two-year voluntary exile to avoid furnishing federal marshals with proof of her polygamous marriage to Angus, and to avoid having to testify against others practicing plural marriage. Mattie and Elizabeth lived in England, Switzerland, and Michigan before returning to Salt Lake City in June 1888.
After returning home, Mattie practiced medicine in Salt Lake and taught nursing courses. She also took an active interest in local politics and women's suffrage, attending the Columbian Exposition in Chicago in 1893 as part of a delegation of Utah women. In a much publicized election, Mattie was one of five Democrats running as "at large" candidates for state senator from Salt Lake County. Among the Republicans for the office was her husband Angus. She was elected on 3 November 1896, becoming the first woman ever elected to that office in the United States. She served two terms in the legislature and was particularly involved with issues of public health. After leaving the legislature she served as a member of the Utah Board of Health and as a member of the board of the Utah State School for the Deaf and Dumb. In later years, Mattie divided her time between Salt Lake City and Los Angeles. Angus died 7 June 1915 in Salt Lake City. By the early 1920s Mattie had settled permanently in California where she worked for the Graves Clinic. She died in Los Angeles on 10 July 1932.