Miriam B. Murphy
Utah History Encyclopedia, 1994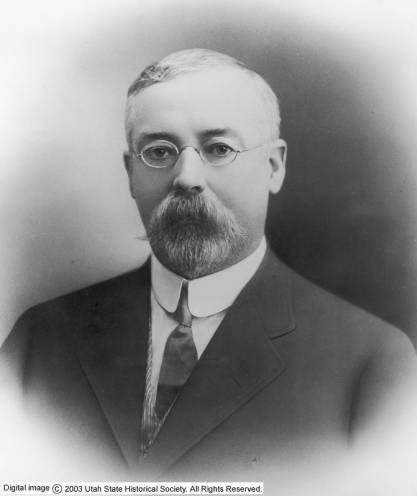 William Spry was born in 1864 in Windsor, England, to tailor Philip Spry and seamstress Sarah Townsend. Spry was educated in common schools and emigrated in 1875 with his family, converts to Mormonism. The family immigrated to Utah in 1875 and Spry served a church mission to the Southern States Mission from 1885 to 1891 including service as mission president. In 1890 he married Mary Alice Wrathall, and the couple had three children.
Spry worked for the railroad and tried ranching before he decided to enter politics. He was tax collector for Tooele County in 1894, and he represented Tooele in the state legislature in 1903 and 1905. Named president of the state land board in 1905, he became U.S. marshal for Utah in 1906 through the influence of Senator Reed Smoot. A key member of Smoot's circle, Spry was extremely skillful in working with non-Mormons as well. He won the Republican nomination for governor in 1908 and defeated Democrat J. William Knight despite a strong showing by the American party candidate, James A. Street.
Spry's major first-term achievements included construction of an armory for the National Guard, authorization to build the State Capitol building, and creation of a state road commission. He also led a successful fight to defeat ratification by Utah of the federal income tax amendment. Calling Utah's tax system "ludicrous," Spry campaigned for reform, but voters rejected constitutional amendments drafted by the legislature in 1912.
Spry won reelection in 1912, defeating Democrat John F. Tolton and Progressive Nephi L. Morris. Important social legislation Spry approved during his second term included a measure directing counties to help support mothers with dependent children, and a bill giving husband and wife living together joint and equal custody of their children. The conviction of IWW organizer and songwriter Joseph Hillstrom (Joe Hill) for the 1914 murders of a grocer and his son pushed Spry to the center of an international controversy, and he was besieged by appeals to grant Hill a new trial or commute his death sentence. With no new evidence forthcoming, the governor refused to intervene and Hill was executed in 1915. Spry and his family received numerous death threats.
Prohibition was a volatile issue for Spry. In 1909 Republican legislators blocked one dry bill and Spry vetoed another. Senator Smoot favored local option on the grounds that statewide prohibition would fuel old Mormon-Gentile antagonisms and adversely affect the Republican and his own political fortunes. Spry signed a local option bill in 1911 and vetoed another statewide prohibition bill in 1915, a move that undoubtedly cost him nomination in 1916 for a third term.
Spry ran for Congress in 1918, losing to Democrat James H. Mays. In 1921 he was appointed a commissioner in the U.S. General Land Office. Poor health forced him to withdraw from the U.S. Senate race in 1928. He died of a stroke in Washington, D.C., in 1929.
See: William L. Roper and Leonard J. Arrington, William Spry: Man of Firmness, Governor of Utah (1971)